Hiroshima Marks 75 Years Since Atomic Bombing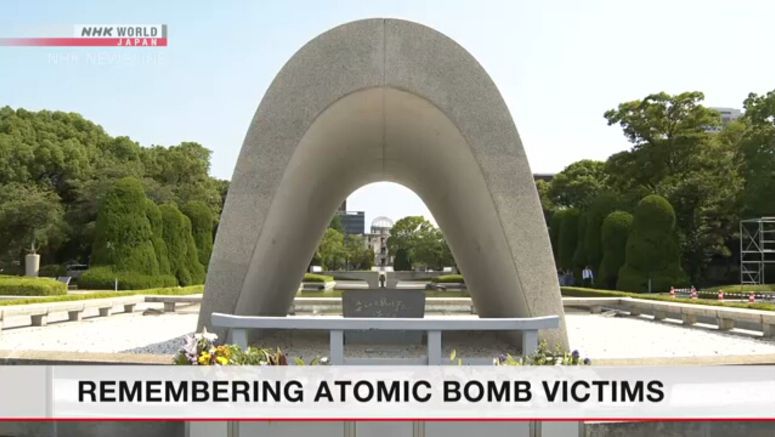 Hiroshima is marking the 75th anniversary of the world's first atomic bombing. A ceremony will be held Thursday morning at Peace Memorial Park in the western Japanese city.
Prime Minister Abe Shinzo is scheduled to attend what will be a more muted event this year due to the coronavirus.
The number of people attending the event is limited to less than one-tenth of the usual. There will be fewer foreign visitors than normal, too, with representatives from about 80 countries taking part.
A list of 324,129 victims will be placed inside a cenotaph. It includes the names of people who died during the past 12 months.
Participants will offer a silent prayer at 8:15 a.m. That's the exact time the atomic bomb was dropped on August 6, 1945, killing 140,000 people by year's end and exposing many more to harmful radiation.
The coronavirus has been hampering efforts to keep the memories of the tragedy alive as the survivors, known as hibakusha, get older.
Under social-distancing measures, there are few in-person chances for them to directly share their experiences with younger generations.
The pandemic has also stalled nuclear disarmament talks, including the review conference for the Non-Proliferation Treaty.
Thursday's memorial event comes amid growing uncertainty over prospects for achieving a nuclear-free world.
The United States and Russia continue to rely on nuclear deterrence, while China has been bolstering its nuclear capability.
Recently, a UN report said North Korea may have developed miniaturized nuclear devices to fit into ballistic missile warheads.
Hiroshima Mayor Matsui Kazumi will deliver a peace declaration at the ceremony. He is expected to call on the Japanese government to heed the voices of the hibakusha and join a UN treaty that bans nuclear weapons.