Japan Braces For More Torrential Rain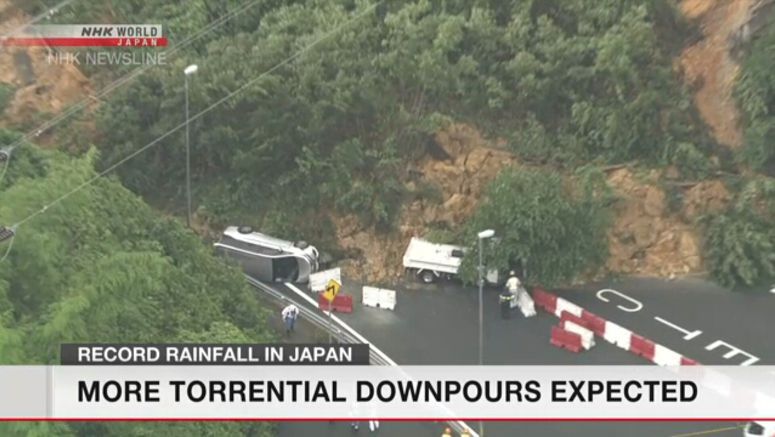 Japan is bracing for more torrential downpours through Friday as a lingering seasonal rain front threatens the western and eastern parts of the country. The rain has already left flooding and landslides along Japan's archipelago in its wake. Sixty-two people are confirmed dead, one person has no-vital signs, and 17 others are still missing.
In Kyoto Prefecture, a powerful mudslide swept away three cars near an interchange of an expressway. Officials say two male drivers had slight injuries.
In Yufu, in southwestern Japan's Oita Prefecture, a car believed to have a family inside was also swept away -- in this case, by flooded river water. Police are searching for passengers.
Kuma Village in Kumamoto Prefecture has seen the majority of casualties. Self-Defense Forces personnel rescued stranded residents, who expressed both a desire to stay positive, and confusion over what steps to take now.
There are still 64 households -- comprising 125 people -- in two other towns in the prefecture that remain isolated and await help.
Turning to Fukuoka Prefecture, flooding inflicted heavy damage on farm fields and greenhouses in and around Kurume City. One farmer said his 60 greenhouses were hit hard, and the timing couldn't have been worse.
A former said, "It was just before the harvest. The whole area around here were completely destroyed. The amount of damage may be around 93,000 dollars."
People's homes have also experienced extensive destruction. More than 4,700 houses were flooded in 22 prefectures mainly in Kyushu and officials warn to expect more.