Japan Marks 25 Years Since Earthquake In Kobe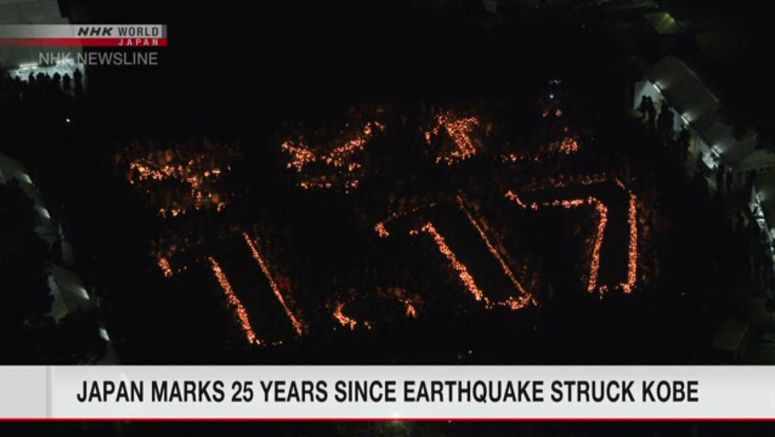 Friday marks 25 years since the devastating earthquake that struck Hyogo Prefecture and nearby areas in western Japan, leaving 6,434 people dead.
The tremor known as the Great Hanshin-Awaji Earthquake occurred on January 17, 1995, destroying many buildings and causing fires.
At a park in Kobe city, the worst-hit area, many bamboo lanterns have been placed to commemorate the victims. The light from the lanterns forms the numbers "1.17" and also the Japanese word "kizamu," meaning engraving.
The word was chosen to express people's wish to convey to young people the memory of the disaster, the lessons from it and the city's recovery.
NHK has asked some of those who were elementary or junior high school students at the time about their experience of the earthquake.
About 60 percent of them said that they have overcome the tragic experience and are now looking forward.
More than half of the surveyed said the experience nurtured in them a wish to help somebody in need.
The reconstruction of Kobe has taken time. One of the redevelopment projects was only completed last year. But the former bustle of the area's shopping streets has yet to return.
The Hyogo prefectural government still has to pay off the balance of the debt of over 1 trillion yen, or about 9 billion dollars, generated by reconstruction work, for another 10 years.