Japan Minister Eyeing Paternity Leave Welcomes Son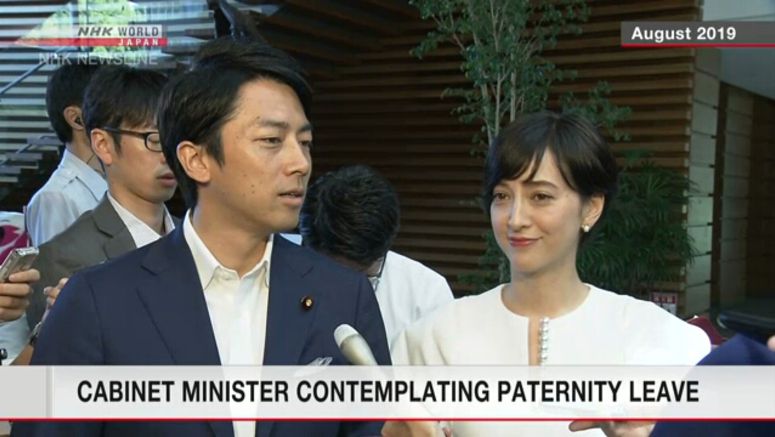 Japan's Environment Minister Shinjiro Koizumi is likely to take paternity leave sometime in the next three months, now that his son has been born.
Koizumi told reporters on Friday that his wife had given birth to the baby. Koizumi's wife is a freelance TV presenter.
The minister announced earlier that he intends to take about two weeks of paternity leave during the three-month post-birth period. He said he plans to telework and take other steps. If he does, he will be the first serving cabinet minister to take this type of leave.
The Ministry of Health, Labor and Welfare says 82.2 percent of women took childcare leave at private companies in fiscal 2018. But it says only 6.16 percent of men took such leave.
Koizumi said both his wife and the baby are doing well. He said he was happy to attend the birth. He added that he would not have been able to do so, if the Diet's plenary session or budget committee meetings had been under way.
He said he is aware that he may face criticism, as the move is unprecedented for a serving cabinet minister. He expressed the hope that he will be able to balance his work and his childcare responsibilities. He added that he wants to further promote Japan's work-style reforms.
Fellow cabinet ministers congratulated him on the move.
Justice Minister Masako Mori said she hopes that Koizumi will show that a man in a leadership position can take paternity leave.
Women's Empowerment Minister Seiko Hashimoto said only someone who has taken paternity leave can persuade others to do so.
Education minister Koichi Hagiuda said that while Koizumi's case may be different from cases in the private sector, he hopes that Koizumi will blaze the trail and encourage the Japanese people to follow suit.
Former British prime minister David Cameron took paternity leave in 2010 while he was in office.