Japan On High Alert For Powerful Typhoon Haishen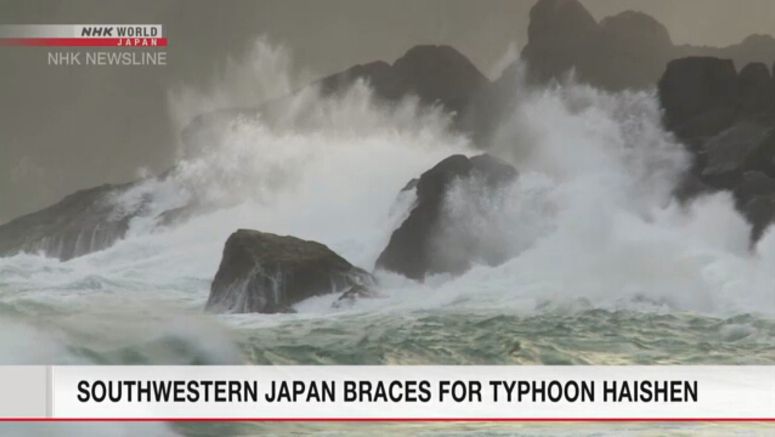 Japan's Meteorological Agency says a powerful typhoon that's on course to hit the southwest of the country could make landfall at close to full strength. Typhoon Haishen is forecast to hit the island of Kyushu on Sunday or Monday.
Weather officials are urging people to take shelter in a safe place before the typhoon lands.
The agency says Haishen was 200 kilometers south of Minami Daito Island in the Pacific Ocean at 10 a.m. on Saturday Japan time. It was moving west-north at 15 kilometers per hour.
Its central atmospheric pressure is 920 hectopascals. It is packing maximum winds of more than 180 kilometers per hour near its center, and gusts of up to 250 kilometers per hour.
The Daitojima region is in the typhoon's storm zone. Measuring equipment at the Kitadaito Airport recorded a maximum instantaneous wind speed of 130 kilometers an hour shortly before 9 a.m.
From Saturday to Sunday, winds of 200 kilometers per hour are expected to hit Okinawa and Amami, with maximum gusts of up to 290 kilometers per hour.
Winds of 160 kilometers per hour are expected in southern Kyushu, with maximum gusts of up to 230 kilometers per hour.
The agency is also warning of torrential rain in Okinawa and the Amami region Saturday through Sunday, and in Kyushu on Sunday and Monday.
Officials say 300 to 150 millimeters of rainfall is expected in some parts of Amami and Okinawa in the 24 hours until Sunday morning.
In southern Kyushu and Amami, 500 to 300 millimeters of rain is expected in the 24 hours until Monday morning.
The Agency is warning of record winds, high waves and storm surges with the potential to cause massive damage.
It has also indicated it may issue an emergency warning for violent winds.