Japan Reports Record Number Of Coronavirus Cases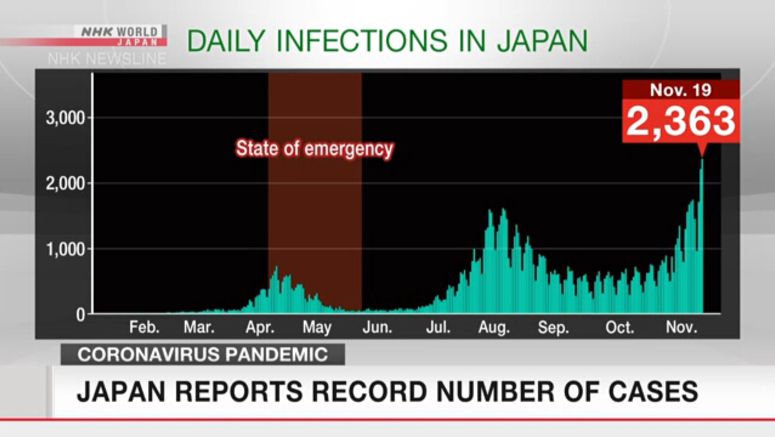 Japanese officials confirmed more than 2,300 cases across the country on Thursday -- a new daily record --and the continuation of a worrying trend.
The daily count first crossed the 2,000 threshold on Wednesday. But numbers have now climbed higher -- even before all of the prefectural tallies are logged.
Tokyo confirmed 534 new cases. It's the first time the figure has topped 500.
Experts monitoring the situation in the capital say the latest seven-day average is about 326 daily cases -- up from 244 the week before.
The Metropolitan Government raised its alert to the highest of four levels -- for the first time since September. It is not asking businesses to reduce operating hours.
But the governor is calling on residents to take thorough preventive measures when they dine in a group... as people begin planning year-end get-togethers.
Governor Koike Yuriko said, "We advise people with pre-existing conditions not to dine in a group. Anyone who lives with family members who are at a higher risk of falling seriously ill are also advised to refrain from such outings."
Osaka, Aichi, Hokkaido, and other prefectures also reported a record number of daily cases on Thursday.