Japanese Firms Affected By Coronavirus Outbreak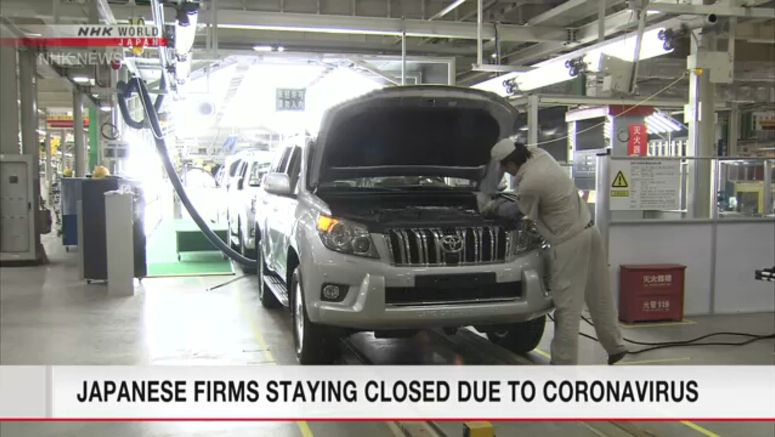 The coronavirus outbreak is increasingly weighing on Japanese companies that do business in China.
Toyota Motor has decided to further postpone the resumption of operations at its factories in four cities, including Tianjin and Guangzhou. They will remain closed at least until February16 .
Honda Motor says it will postpone the re-opening of its plant in Wuhan, the epicenter of the outbreak, at least until the week of February 17. The automaker previously said it planned to re-start production on or after Friday.
Mitsubishi Motors also postponed the reopening of its factory in Fuzhou till the week of February 17.
Cosmetic maker Shiseido's factories in Beijing and Shanghai will remain closed till February 17, while confectionery maker Ezaki Glico will keep its factory in Shanghai closed till Tuesday.
Fast Retailing, which operates casual clothing giant Uniqlo, had closed about 370 stores, or about half the group's approximately 750 stores in China, as of last Friday.
However, there are companies planning to resume operations on Monday.
Honda Motor plans to reopen its factory in Guangzhou on Monday, as Mazda will do with its factory in Nanjing.
Major electronics companies, including Sony and Sharp, will restart production at their factories in phases, starting on Monday.
The companies say they will keep an eye on the Chinese authorities' response, as well as employee turnout.
It is unclear if production will return to normal soon, as there are concerns about supplies of parts.
Further suspension of production in China could adversely affect output at car factories in Japan that use Chinese-made parts.
Japanese companies are closely watching the state of their supply chains.