Japanese Leader Meets With Saudi Crown Prince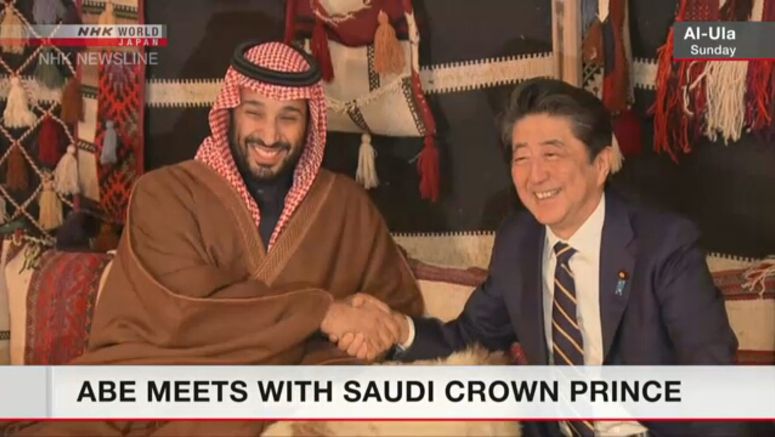 Japan's Prime Minister has met with Saudi Arabia's Crown Prince to discuss ways to ease political tension in the Middle East.
The talks between Shinzo Abe and Mohammed bin Salman were held on Sunday in Al-Ula, a city in Saudi Arabia's northwest. Earlier, Abe met with King Salman bin Abdulaziz in the capital Riyadh.
The meeting between Abe and the Crown Prince lasted about one hour. For 20 minutes, only the two were present along with interpreters. Abe wore a Saudi national costume presented by his hosts.
Abe said military conflict in the Middle East, including the involvement of Iran, has a major global impact.
He said further escalation should be avoided, expressing appreciation for Saudi Arabia's restrained response.
The prime minister added that Japan continues an utmost diplomatic effort. He urged all relevant parties to make efforts towards the de-escalation of violence. He called for continued restraint and expressed a wish to work closely with Saudi Arabia.
The Crown Prince thanked Abe for Japan's diplomacy. He said tension in the Middle East has a negative global impact and called for dialogue.
Abe also explained that Japan's dispatch of Self-Defense Force aircraft and a destroyer to the region is designed to gather information to ensure the safety of ships with ties to Japan.
The Crown Prince acknowledged Japan's endeavor.