Japan's Emperor Marks 60th Birthday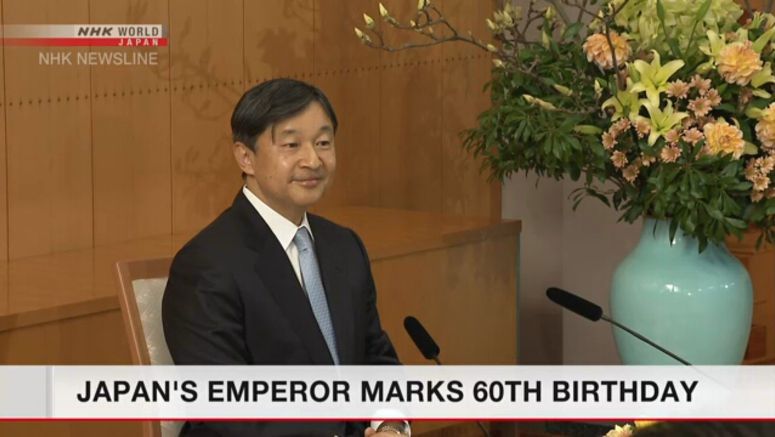 Emperor Naruhito is now 60 years old.
Ahead of the Sunday occasion, the Emperor expressed his thoughts to the media. It was his first news conference since he ascended the throne last May.
The Emperor said his path as the symbol of the State has just begun, and that he is drawing strength from the congratulatory words he has received from many people.
He said he will give deep thought to the path trodden by his father -- Emperor Emeritus Akihito, keep in mind the deeds of past emperors, and strive to improve himself.
He said he will always think about the people and stand by them, and work harder to fulfill his duties.
The Emperor added people's lives have changed since the early days of his father's era, which began in 1989. He noted the spread of smartphones and frequent natural disasters linked to climate change.
He said he believes it is important to consider how his duties can serve the rapidly changing society and age, and act accordingly. For that purpose, he said he hopes to meet many people and cherish the opportunity to listen to them in person.
Reflecting on his 60 years of life, the Emperor said his eyes were first opened to the world at the Tokyo Olympics in 1964.
He said he hopes the Tokyo Games scheduled this year will encourage young people in particular to deepen their understanding of those around the world and the preciousness of peace.
Referring to the new coronavirus outbreak, Emperor Naruhito expressed his sympathies to those who have been infected, and that his thoughts are with the people who are engaged in the difficult work to treat and prevent infections. He said he hopes the contagion can be contained as soon as possible.
The Imperial Household Agency has cancelled the Emperor's greetings to the public on the palace grounds to mark his birthday, due to concern over the coronavirus. The event usually draws large crowds of well-wishers.