Japan's New Cabinet Gets Down To Work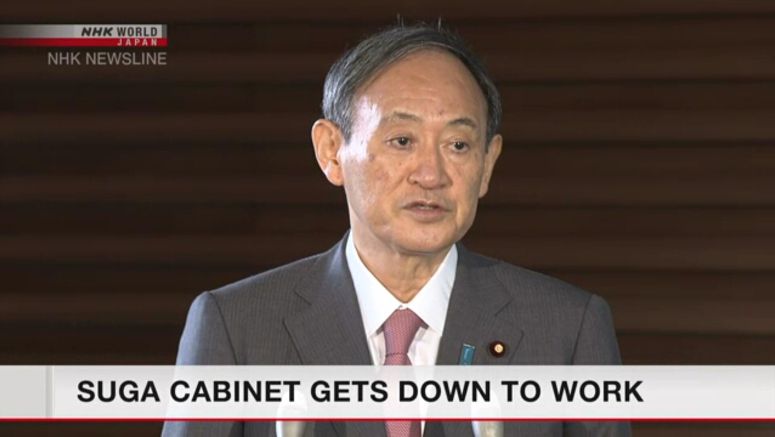 Japan's new prime minister Suga Yoshihide has spent his first full day in the country's top job. He and his newly minted ministers wasted no time getting down to business.
Suga said, "My cabinet is ready to serve the people. We will try to deliver tangible results and live up to their expectations."
Suga's top priority is the coronavirus, and he has tapped Tamura Norihisa to help with the response as health minister. Tamura served in that post for a time in the previous administration.
Tamura said, "The pandemic is a worldwide issue, so Japan cannot solve this problem by itself. We need to find ways to alleviate people's anxiety."
Tamura also said he will work to ensure that infertility treatments are fully covered by public health insurance. Until that happens, he's proposing larger subsidies to help people cover the cost.
Kono Taro is in charge of another of the prime minister's priorities... administrative reform. He was briefed about his new duties by his predecessor.
Kono has launched a new webpage to receive complaints about inefficiencies due to government regulations.
Kono said, "I have already received about 700 emails. Those messages include specific requests for regulatory reform, which I find reasonable. I'm convinced it's a worthwhile effort."
Hirai Takuya will also take on one of the areas prioritized by Suga -- setting up a new government agency in charge of digitalization. The goal is to increase efficiency and promote economic growth in the post-coronavirus era.
Hirai said, "I've been told to complete my mission at an unprecedented speed. I will do everything I can to achieve that."
He says he wants to set up the new agency within 18 months.