Kono Inspects Destroyer, The Takanami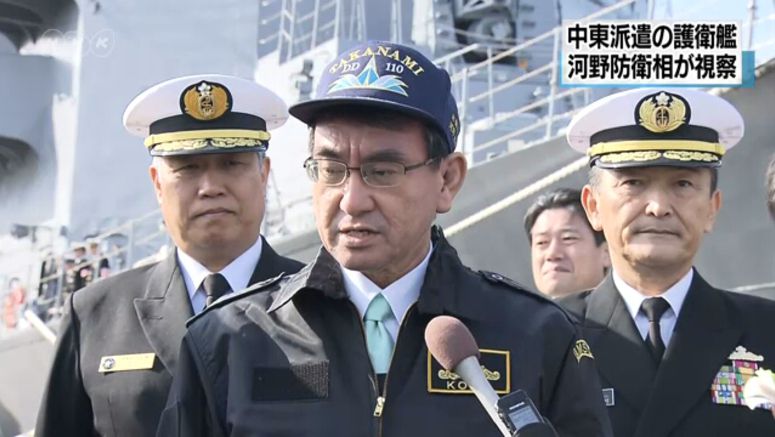 Japanese Defense Minister Taro Kono has given a talk to the crew of a Maritime Self-Defense Force destroyer that will set out in early February for a mission in the Middle East.
Japan's government issued an order earlier this month to dispatch a destroyer and aircraft to the Middle East for an intelligence-gathering operation designed to safeguard commercial ships with links to Japan.
On Saturday, Kono visited an MSDF base in Yokosuka, Kanagawa Prefecture, south of Tokyo, and boarded the destroyer, the Takanami.
The minister inspected bullet-proof windows on the bridge of the ship and observed a loudspeaker system that issues warnings about suspicious boats.
He commended the vessel's medical and cooking staff.
Speaking to reporters later, Kono noted that about 90 percent of Japan's oil imports come through Middle Eastern waters. He talked about the need to protect the Japanese economy from disruptions to supply.
The Takanami is scheduled to leave Yokosuka on February 2 and begin operations in the Gulf of Oman and the northern part of the Arabian Sea later next month. The ship will collaborate with P-3C patrol planes, also from Japan. The planes are based in the east African nation of Djibouti and have been in operation since last Monday.