Kono: Middle East Tension Unlikely To Escalate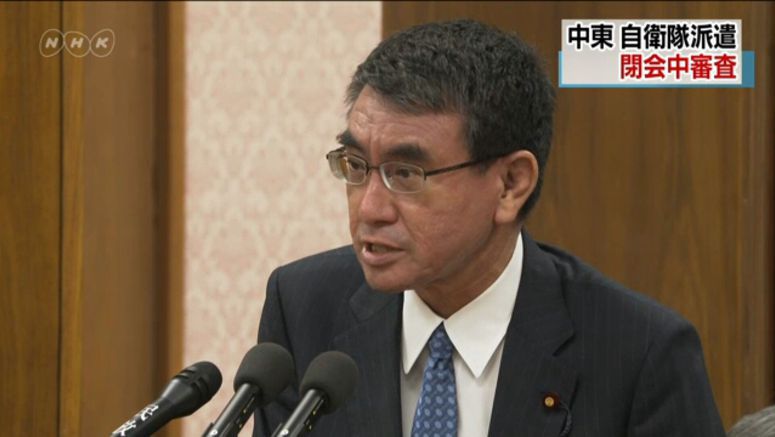 Japan's Defense Minister Taro Kono has suggested that tensions in the Middle East are unlikely to escalate for now.
Kono gave the assessment at a meeting of the Lower House Committee on Security on Friday.
Members discussed the government's decision to send a Self-Defense Forces destroyer and patrol aircraft to the Middle East to gather intelligence. The aim is to ensure the safety of commercial ships with links to Japan.
An opposition lawmaker referred to escalating tensions in the region due to a US drone attack that killed a top Iranian commander in Iraq, and asked Kono to assess the situation.
Kono said he cannot say with full certainty that tensions won't rise. But he said that based on the current situation, they are unlikely to escalate, as the US and Iran say they plan not to raise tensions.
The government says it will consider ordering the SDF personnel to engage in maritime policing activities if unexpected developments occur during the mission.
Kono played down concerns that such activities would not be enough to protect Japanese and foreign vessels. He said SDF members can use arms for legitimate self-defense when they face imminent unlawful danger.
Kono said that means they can open fire if weapons are targeted at them or they're attacked. He added that SDF personnel can respond by firing warning shots, and adequately protect their vessels and those of other nations.
Kono also said maritime policing activities could take place outside waters designated for the intelligence-gathering mission.
The comments indicate that the mission could take place in the Persian Gulf and the Strait of Hormuz.
A transport ministry official told the committee that in 2018, about 650 Japanese-flagged ships and about 2,900 foreign-flagged ships operated by Japanese entities passed through the Strait of Hormuz.