Ldp Leadership Candidates Hold Public Debate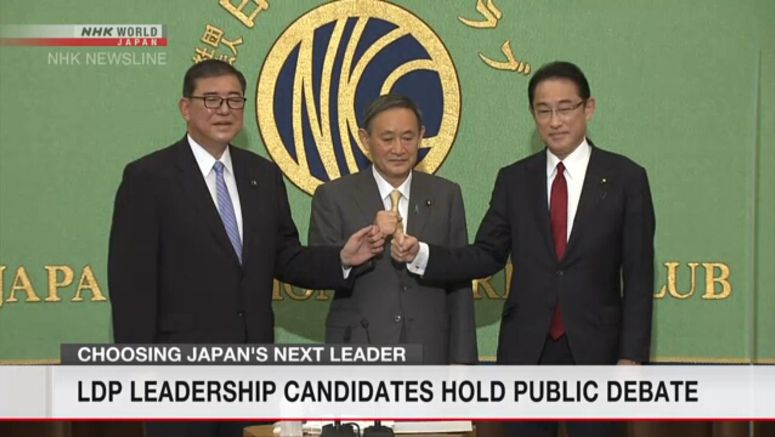 The three candidates running for the leadership of Japan's main governing Liberal Democratic Party took part in a public debate in Tokyo on Saturday. The winner of the leadership race is set to be the successor to outgoing Prime Minister Abe Shinzo.
Chief Cabinet Secretary Suga Yoshihide, former LDP Secretary-General Ishiba Shigeru, and LDP policy chief Kishida Fumio discussed topics including a special law to deal with the coronavirus, diplomacy and national security.
On the special law, Ishiba said it should be revised if necessary to bring the outbreak under control. He said financial assistance would be necessary if revising the special law involves a mandatory limiting of economic activity.
Suga said he wants to continue enforcing current measures. He said a review would be conducted if necessary, but added that various issues are at stake, such as human rights. Suga said it needs to be dealt with carefully with a supplementary resolution in the Diet.
On additional moves to boost the economy, Suga said if the current measures are not enough, he will pursue the next step. He said he will take action to ensure employment and businesses will be protected.
Kishida said deliberation in the Diet on the special law should be considered after debate and preparation. He said it is important to discuss issues such as fairness between people who followed stay-at-home requests and those who didn't. He also said discussion is needed on financial support when the government asks people to refrain from going out or conducting business.
On diplomacy and national security, Ishiba said a Japan-US alliance of equal footing should be created with a view to revising the bilateral Status of Forces Agreement. He said he wants to make efforts to increase supporters of Japan in Asia.
Suga said the Japan-US alliance is the basis of relations with Asian countries. He said Japan has outstanding issues with several neighbors, including China and South Korea, and that it should face them strategically. He said he wants to promote diplomacy that is open to communication.
Suga said that continuity is important in diplomacy. He said he could not do the same as Abe and would pursue his own diplomatic strategy. He said he would continue to consult with Abe.
Kishida said that while divisions deepen between the US and China, and amid rising protectionism, Japan could increase its presence by pursuing relations with multiple countries.
He said it's important to cooperate with countries that share basic values, and for Japan to take the lead in setting rules on global issues.