Ldp Seeks Measures Surpassing 2008 Global Crisis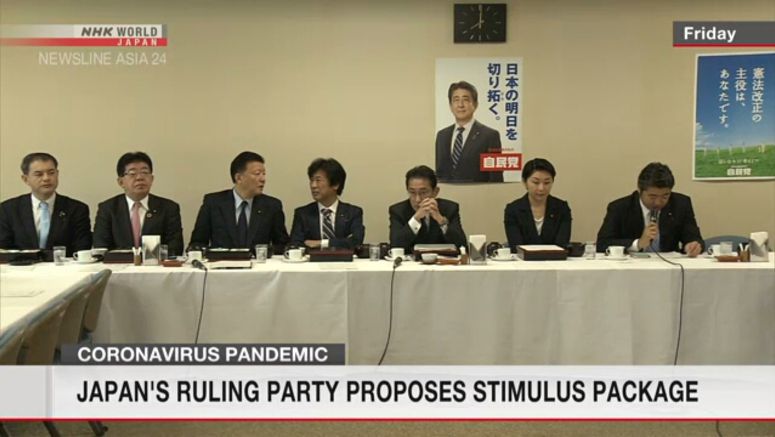 Japan's ruling Liberal Democratic Party has put together its draft proposals on a stimulus package to cope with the economic impact of the coronavirus pandemic. It calls for measures of a larger scale than those taken during the 2008 global financial crisis.
The draft includes a proposal of 20 trillion yen, or about 186 billion dollars, in fiscal spending and 60 trillion yen, or about 560 billion dollars, for businesses.
In comparison, the economic package put together in the 2008 crisis consisted of more than 15 trillion yen, or about 140 billion dollars, in fiscal spending and more than 56 trillion yen, or about 523 billion dollars, for businesses.
It also proposes that the government establish a system to provide subsidies totaling 1 trillion yen, or about 9.3 billion dollars, to small and medium-sized companies and freelancers. It said the subsidies should not need to be returned.
The draft also calls on the government to tap a reserve fund worth about 4.6 billion dollars for the new fiscal year that starts in April for measures to fight the coronavirus. Alternatively, a new reserve fund can be set up exclusively for the measures.
The draft proposals include cash handouts to households struggling to make ends meet following a drop in income due to the outbreak. The draft does not mention the amount of cash, but says it should be provided according to the size of each household.
The LDP will gather opinions on the draft proposals from party members. Policy Research Council Chairperson Kishida Fumio will submit the party's proposals to Prime Minister Abe Shinzo as early as Tuesday.
The government plans to put together its economic measures as early as next week.