Mackerel Sushi Production Starts In Fukui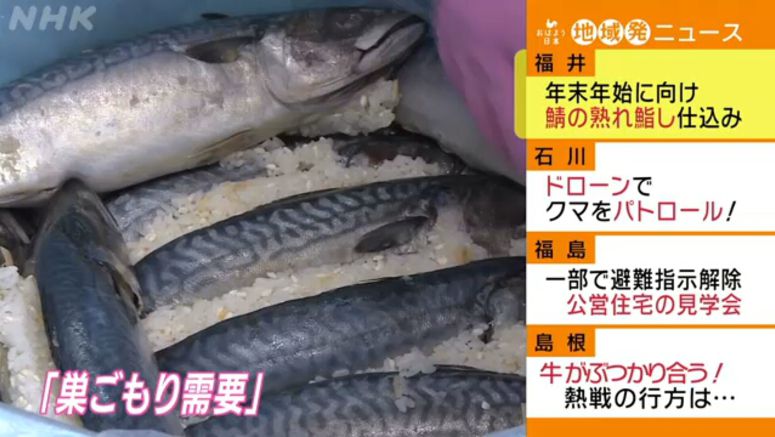 The production of a winter delicacy, fermented mackerel sushi, has begun in a mountainous area of Fukui Prefecture on the Sea of Japan coast.
A group of eight people gathered at a facility in the town of Kitadani on Sunday to prepare the preserved food for the year-end and the New Year.
They stuffed 360 mackerels, each measuring about 40 centimeters long, with rice mixed with ginger, vinegar and koji mold, which helps the fermenting process. The fish was then placed in containers.
Group leader, Kobayashi Nobuo, said the sushi's flavor will improve when the temperature starts to drop. He said his group will make tasty sushi that everyone will enjoy.
The group plans to prepare 1,800 pieces of sushi, which is 100 more than it made last year. It expects demand to rise, as people are spending more time at home amid the coronavirus pandemic.
The group says it will put its products on sale in mid-December, mainly at local roadside facilities.
In the late 19th century, a drug vendor from nearby Toyama Prefecture is said to have taught people in the town how to make the preserved food for winter. The area is known to have lots of snow in the season.