Meteor 'fireball' Seen, Heard In Japan Night Sky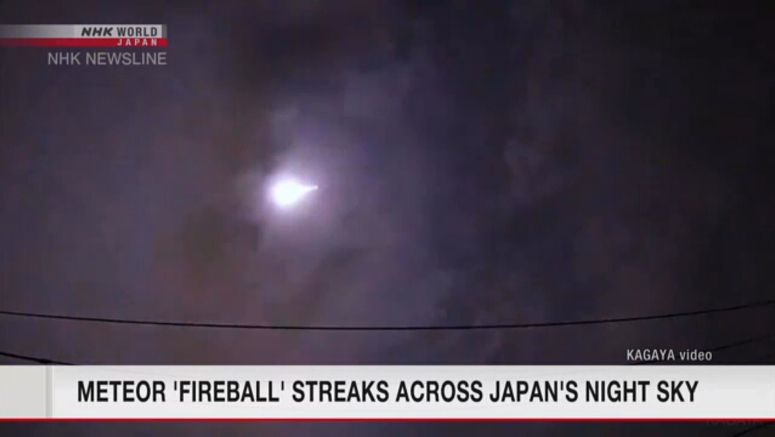 Night sky watchers say what appeared to be a fireball was seen streaking over wide areas of Japan.
It was a phenomenon created by a fragment of a falling asteroid burning as it descends into the atmosphere.
The fireball, or a bright meteor, was observed in the early hours of Thursday in the Kanto region in eastern Japan, and also in the Tokai region in central Japan.
Witnesses in Kanto reported hearing an explosive thunderous sound soon after they saw the fireball streaking down from west to east in the sky.
Fujii Daichi, a curator who specializes in astronomy at a science museum in Hiratsuka City, said the fireball looked much brighter than the full moon. He said the explosive sound is probably caused by shockwaves. Fujii said it is very rare for the sound of a fireball to be registered. He said the fragment of an asteroid was thought to be more than several centimeters wide, and might have reached the ground as a meteorite.
A lot of people who saw the fire ball posted their sightings with videos on social media.
Illustrator, photographer and starry sky artist, KAGAYA, whose real name is Kagaya Yutaka, posted his video. He said he saw the fireball at about 2:30 a.m. and a few minutes later, he heard a roaring sound so loud he could hear it indoors.
He said if this is the sound of a fireball, it is the first time he has heard it.