New Infection Cases Top 100 In Tokyo Again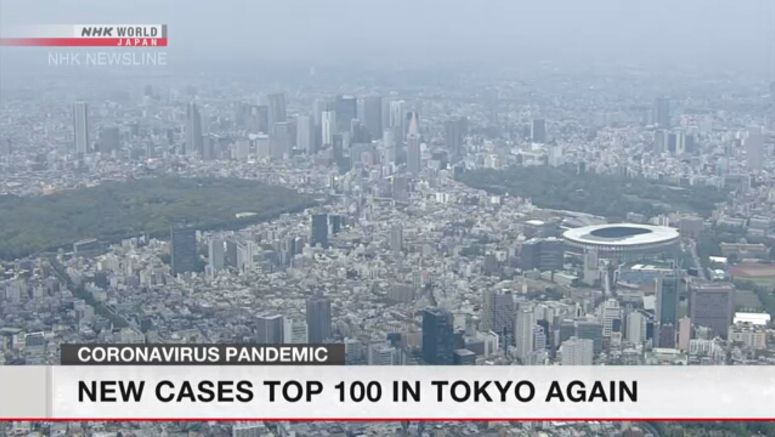 Tokyo Metropolitan Government officials reported 112 new coronavirus infections on Tuesday, after the daily tally in the capital fell below 100 for two straight days.
Over 4,000 people have tested positive for the virus in the city of 14 million.
The central government declared a state of emergency three weeks ago to contain the spread of the virus. Residents have been asked to stay home as much as possible.
Officials are closely monitoring the situation to decide whether to extend the state of emergency beyond May 6.
The government plans to fast-track screening of an antiviral drug called remdesivir as a potential treatment for COVID-19.
The drug was originally developed to treat Ebola. But clinical tests are underway in Japan and several other countries to see whether it's effective against the coronavirus.
Japan's Health Minister Kato Katsunobu said, "If emergency use of the drug is permitted abroad, we will proceed with a special approval process to expedite the screening."
Health ministry officials say Germany and the US are already considering whether to approve remdesivir.
Meanwhile, Japan plans to provide a flu drug called Avigan to the Netherlands, the Philippines and 36 other countries as a possible treatment for the virus.
Avigan is developed by a Japanese company. Japan's foreign minister says more than 70 countries have asked for supplies of the medicine.
The health ministry has also decided to allow dentists to carry out coronavirus tests if local facilities are overwhelmed.
As many as 8,800 PCR tests were being carried out per day as of mid-April. That's about four times the number in mid-March, as the government is moving to boost capacity. But there is concern about a shortage of doctors taking samples at local test centers.
More than 13,800 people have been infected in Japan.
About 400 have died.