Osaka To Study Gargle For Anti - Virus Effects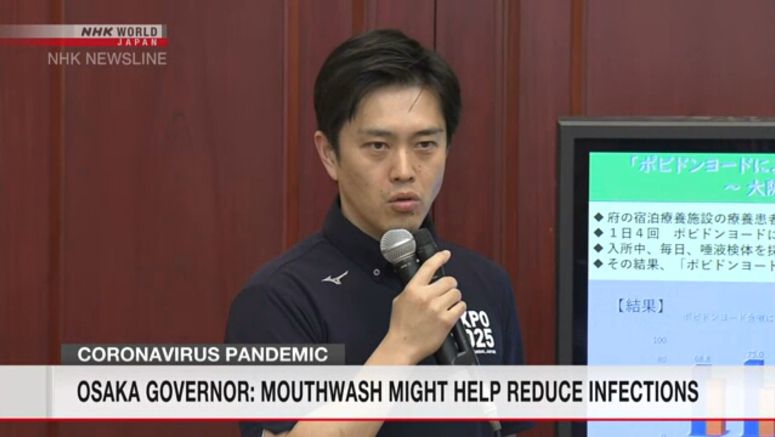 The Osaka prefectural government in western Japan says it will launch research into whether gargling with medicine could reduce the amount of the coronavirus in saliva, making the person less infectious.
Osaka Governor Yoshimura Hirofumi on Tuesday cited a recent study that indicated gargling with the mouthwash may help reduce coronavirus infections.
Yoshimura said doctors instructed about 40 coronavirus patients to gargle with a mouthwash containing an antiseptic, povidone iodine, four times a day in June and July. The patients had mild or no symptoms and were quarantined at designated accommodations.
Among patients who used the mouthwash, only nine percent tested positive for the coronavirus in PCR tests conducted on the fourth day. Forty percent of those who didn't use it tested positive.
The prefecture plans to launch a study involving about 1,000 patients with mild or no symptoms to find out the efficacy of the gargle against the virus.
Matsuyama Akifumi of Osaka Habikino Medical Center said reducing the amount of the virus in saliva could help prevent virus transmissions among family members. He said tests involving several hundred subjects are not enough for clear results, so he wants to launch a large-scale study.