Osprey Transport Aircraft To Arrive In Chiba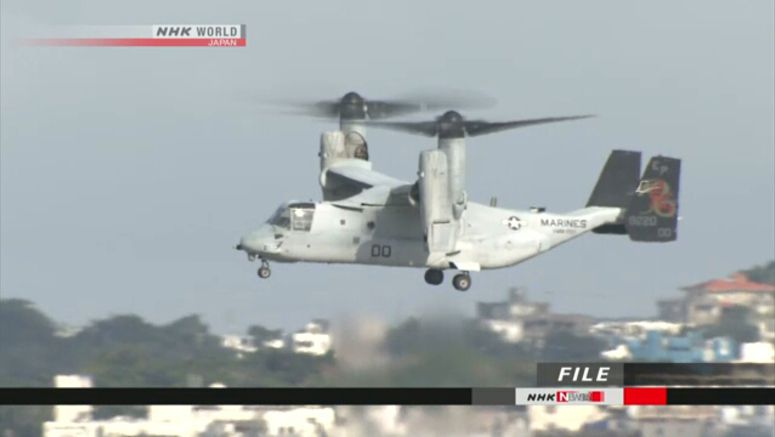 Japan's Defense Ministry will fly an Osprey transport aircraft to Camp Kisarazu in Chiba Prefecture, near Tokyo, on Monday for temporary deployment by the Ground Self-Defense Force, or GSDF.
The Osprey is one of two that have been undergoing maintenance at US Marine Corps Air Station Iwakuni in Japan's western prefecture of Yamaguchi since its arrival in May. The other Osprey will fly to Camp Kisarazu on Friday.
The GSDF says it will conduct detailed checks on the fuselages of the two Ospreys over about a month before conducting ground tests on their engines.
It has not yet decided when to start flights of the aircraft during the provisional deployment.
But the GSDF says that when it does begin Osprey flights at the camp, it may start with basic, on-base training and expand the flight area in phases. It will take into account strong local concerns over the aircraft's safety.
The ministry hopes to end the provisional deployment within five years and station a total of 17 Ospreys at Saga Airport in the western prefecture of Saga as originally scheduled.
It is not known when the ministry will be able to deploy the aircraft in Saga. Negotiations with land owners still need to be concluded, and a timeframe for facility construction has yet to be set.