Rain Continues To Lash Western, Eastern Japan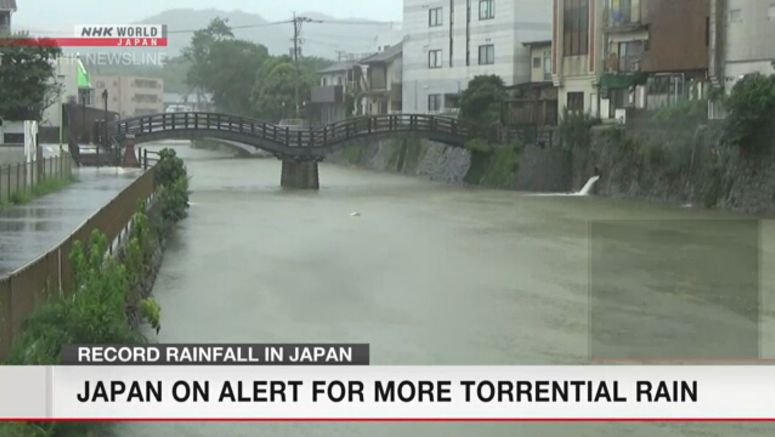 Heavy rain continues to pound parts of Kyushu in Japan's southwest and elsewhere, prompting landslide warnings for Kumamoto, Saga, Oita, Miyazaki, Tokushima, Gifu and Akita prefectures. Weather officials are also urging people to be prepared for flooding.
The Meteorological Agency says a slow-moving front over Japan has combined with a low pressure system to create unstable atmospheric conditions over much of the country.
A band of rain clouds is currently blanketing the Tokai and Kyushu regions. In the hour through 10 a.m. Saturday, the town of Mifune in Kumamoto Prefecture, located in Kyushu, recorded 42 millimeters of rain.
Some rivers in Kumamoto and Yamaguchi prefectures have risen above levels used to gauge the risk of overflowing.
For the 24 hours through Sunday morning, weather officials are forecasting rain of up to 200 millimeters in the Tokai region, 150 millimeters in the northern Kyushu, Shikoku and Kanto Koshin regions, and 120 millimeters in the southern Kyushu, Kinki and Hokuriku regions.
The Tohoku region is expected to have up to 100 millimeters of rain and the Chugoku region, 80 millimeters.
In the 48 hours through Monday morning, 200 to 250 millimeters of rain is forecast for the Tokai region, 150 to 200 millimeters for the northern Kyushu, Shikoku and Hokuriku regions, 100 to 200 millimeters for Tohoku, and 120 to 150 millimeters for southern Kyushu.
Kyushu and other areas that have already been pummeled by torrential rain for several days are at elevated risk of disaster, particularly in areas where the earth has been loosened and dikes have been damaged.
Weather officials are calling on people to remain vigilant and be prepared for mudslides, swollen rivers and flooding in low-lying areas, as well as possible lightning strikes and tornadoes.