Rice Grown In Tsunami - Hit Area Put On Sale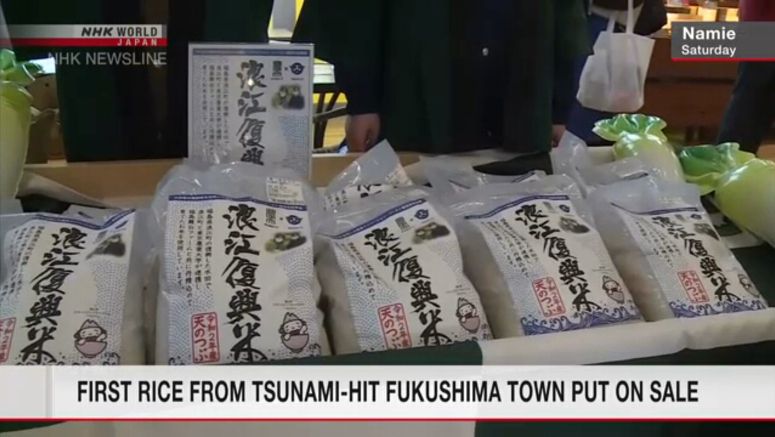 An event has been held to promote the rice harvest in a coastal area of the town of Namie, Fukushima Prefecture. This year's harvest was the first since the area was hit by the 2011 tsunami and the nearby nuclear accident.
An evacuation order for the town's coastal area was lifted 3 years ago, but the restoration of farm land took longer.
It was not until this spring that an agricultural company from neighboring Miyagi Prefecture planted 24 hectares of rice in paddies leased from local farmers.
On Saturday, the firm's staff and students from Tokyo University of Agriculture who are working with the town to revive the agriculture industry promoted the rice to visitors at a roadside rest area.
Fifty bags of rice, each containing 2 kilograms of the grain, went on sale. Fukushima's original "Ten-no-tsubu" variety has been renamed Namie Fukko Mai, or Namie's reconstruction rice.
A woman in her 50's from the town said she is glad that she can buy local rice, as there have been very few opportunities to buy locally grown food.
She said she wants to see a revival of agriculture, and the survival of local taste.
Shikoda Yuji, who heads the agricultural firm, says he is happy to make the first step towards fully bringing back the town's farming industry, and that he wants to get more farmland in production again as it becomes ready.