Scholars Rejected For Science Council Slam Govt.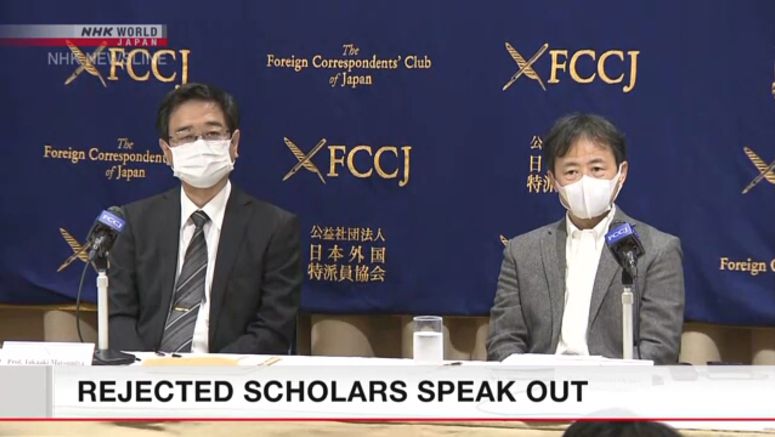 Six Japanese scholars have accused the government of breaking a law by rejecting them as members of the country's top academic body.
Four of the scholars held a news conference on Friday at the Foreign Correspondents' Club in Tokyo. Two of them attended via video link.
Prime Minister Suga Yoshihide refused to appoint the six as members of the Science Council of Japan. He broke away from a long-held custom of approving all council recommendations for new members.
Waseda University Professor Okada Masanori said the council's independence is guaranteed by law to ensure that political power distances itself from academia.
He said this independence will be lost if those in power decide who can and cannot join the council.
Suga has said he didn't see the list of 105 nominees including the six. Okada said the rejection was not based on the list, and that this clearly runs counter to legal stipulation.
Professor Matsumiya Takaaki of Ritsumeikan University Graduate School said the government cited the Constitution and argued that the prime minister can freely choose public servants, as he represents the people.
Matsumiya said such thinking could make the prime minister a dictator.
He also said the rejection highlights the government's lack of understanding on academic independence and the risk posed by such ignorance.
He urged the Diet, experts and the general public to stop the government from going in that direction.
The remaining two scholars released statements.
Professor Kato Yoko of University of Tokyo Graduate School said the refusal to appoint the six is illegal because it was done without necessary changes in the interpretation of the law governing the council.
Kato said she wants to ask why Suga made the decision and whether the government keeps official records of the decision-making process.