State Of Emergency May Be Lifted In Some Prefs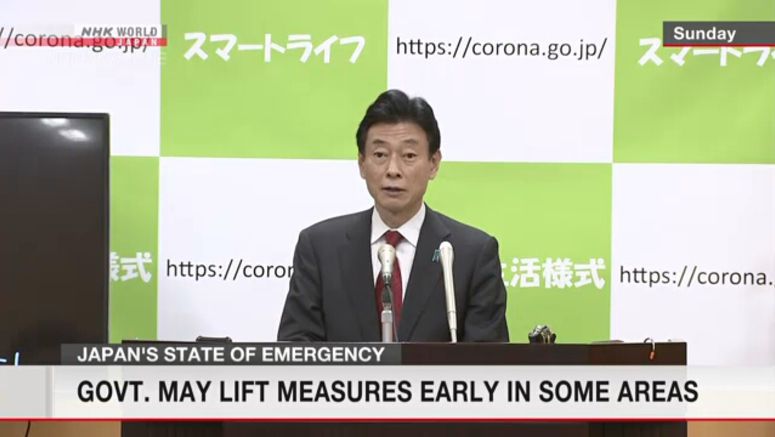 Japan's government says it may lift the nationwide state of emergency for the coronavirus outbreak before the planned end date of May 31. This would apply to some of the 13 prefectures now under special alert, as well as many other prefectures.
The government plans to discuss the matter at a meeting of its expert panel on Thursday.
Declines in weekly new cases in proportion to regional populations is expected to be among the criteria to be considered in making such a decision.
The government is also expected to check whether regional medical arrangements are appropriate enough to treat serious cases, and whether prefectures have proper testing systems to obtain updated data on new infections.
On Sunday, Economic Revitalization Minister Nishimura Yasutoshi said the government will consider lifting the emergency declaration in many of the 34 prefectures that are not under special vigilance.
He said the state of emergency may also be lifted in Gifu, Ibaraki and other "special alert" prefectures where the numbers of new infections have decreased.
Tokyo is expected to be excluded from the easing of restrictions. The capital confirmed 22 new infections on Sunday as new cases have continued to be reported, although they have remained fewer than 40 for the past five straight days.
The government plans to present new guidelines for restarting economic activities to prevent the virus from spreading again once the state of emergency has been lifted.
It also plans to call on Tokyo and other prefectures under special alert to firmly maintain stay-at-home requests until the emergency declaration is lifted.