Sts Dolphin Is Heading Toward Eastern Japan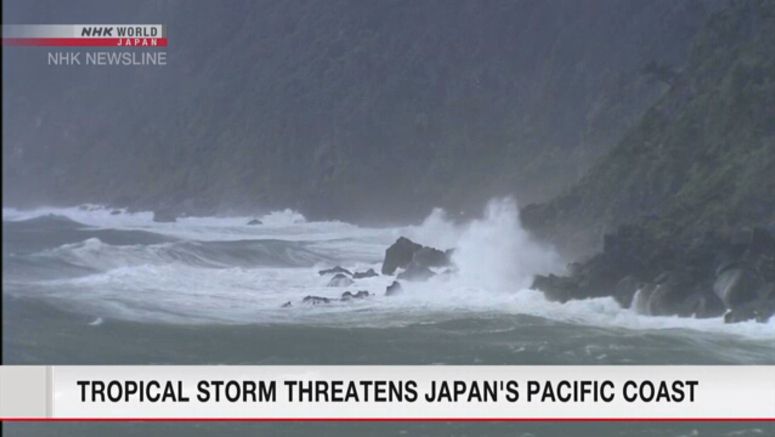 Severe Tropical Storm Dolphin is heading toward Japan and could bring downpours to the eastern part of the country through Friday.
Weather officials are urging people to stay on alert for possible mudslides and flooding in low-lying areas, as well as thunderstorms, tornadoes and hailstorms.
The Meteorological Agency says the storm was 80 kilometers east-southeast of Hachijojima Island as of 7:00 p.m. Wednesday, Japan time. It was moving northeast at a speed of about 25 kilometers per hour.
The storm has a central atmospheric pressure of 985 hectopascals and is packing maximum winds of 90 kilometers per hour.
The storm is expected to move northeastward over waters to the east of the Kanto region on Thursday and Friday.
The Izu Islands can expect downpours of more than 50 millimeters per hour. The Pacific coast of Kanto and Tohoku can also expect heavy rain.
The Izu Islands could have 250 millimeters of rain over the next 24 hours, the Kanto region 200 millimeters and the Tohoku region 180 millimeters.
Tohoku can expect another 100 to 200 millimeters of rain from Thursday evening through Friday evening.
Maximum winds of 90 kilometers per hour are forecast for the Izu Islands and Kanto, and 72 kilometers for Tokai and the Pacific coast of Tohoku on Thursday.
The Pacific coast of Tohoku and Hokkaido could have maximum winds of 72 to 86 kilometers on Friday.
Seas will be rough, with waves six to seven meters high expected around the Izu Islands and along the Pacific coast of eastern Japan through Friday.