Suga: Biden Notes Japan - Us Treaty Covers Senkakus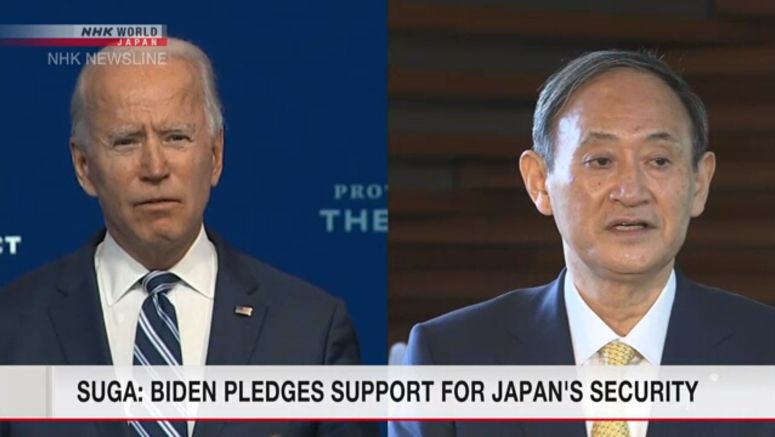 Japan's Prime Minister Suga Yoshihide says US President-elect Joe Biden has suggested that Washington will help Japan defend the Senkaku Islands in the East China Sea under the bilateral security treaty.
Suga and Biden spoke for the first time over the phone for about 10 minutes on Thursday morning, Japan time.
Suga told reporters he congratulated Biden and Vice President-elect Kamala Harris on their victory in the US presidential race.
Suga said the security environment around Japan is becoming increasingly severe, and he conveyed the need to further strengthen the Japan-US alliance, which is indispensable for the peace and prosperity of the region, as well as the international community.
The prime minister said he also conveyed his wish to work with the US to realize a free and open Indo-Pacific.
Suga said Biden expressed Washington's commitment to applying Article Five of the Japan-US Security Treaty to the Senkaku Islands. He also told Suga he is looking forward to cooperating with Japan to strengthen the bilateral alliance and for the peace and stability of the Indo-Pacific region.
Japan controls the Senkaku Islands. China and Taiwan claim them. The Japanese government maintains the islands are an inherent part of Japan's territory, in terms of history and international law. It says there is no issue of sovereignty to be resolved over them.
Suga said he and Biden agreed to work together on matters of international concern, such as the coronavirus and climate change.
The prime minister said he also sought US cooperation in resolving the abductions of Japanese nationals by North Korea.
He described the phone conversation as very meaningful for efforts to reinforce the Japan-US alliance.
Suga added that he plans to visit the US at an appropriate time, but they have agreed to meet as early as possible.