Suga Cabinet Gets Down To Work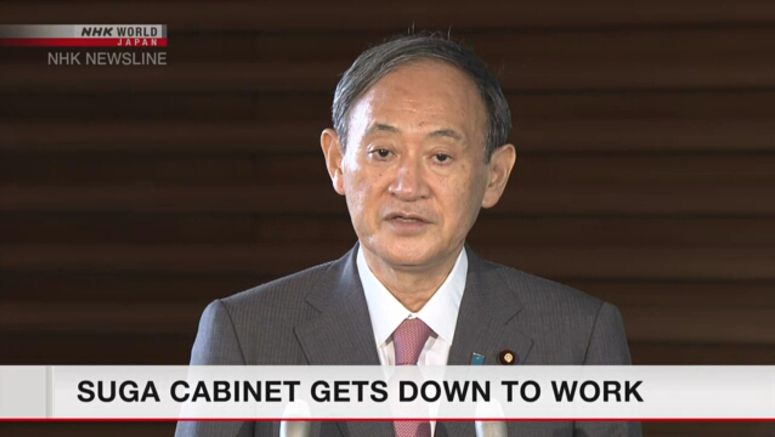 One day after Suga Yoshihide became Japan's Prime Minister, he and his cabinet members got down to business.
Suga said, "I am determined to work hard for the Japanese people and will try to live up to their expectations."
Suga's top priority is the coronavirus. Tamura Norihisa has returned to the health ministry to deal with the virus. He was health minister for a time in the previous administration.
Tamura said, "The pandemic is a worldwide issue, so Japan cannot solve this problem by itself. We need to find ways to alleviate people's anxiety."
Kono Taro is in charge of another of the prime minister's priorities... administrative reform. He was briefed about his new duties by his predecessor. Kono started a new webpage to get complaints about inefficiencies due to government regulations.
Kono said, "It's the age of social media, not a call center. I've already received messages from many people, and started my work."
Hirai Takuya will also take on one of the areas prioritized by Suga, setting up a new government agency in charge of digitalization. The goal is to increase efficiency and promote economic growth in the post-coronavirus, remote-work era.
Hirai said, " The Prime Minister has asked me for quick results. I want to focus on the outcome of those results as well.