Suga Calls For China's Positive Action On Senkakus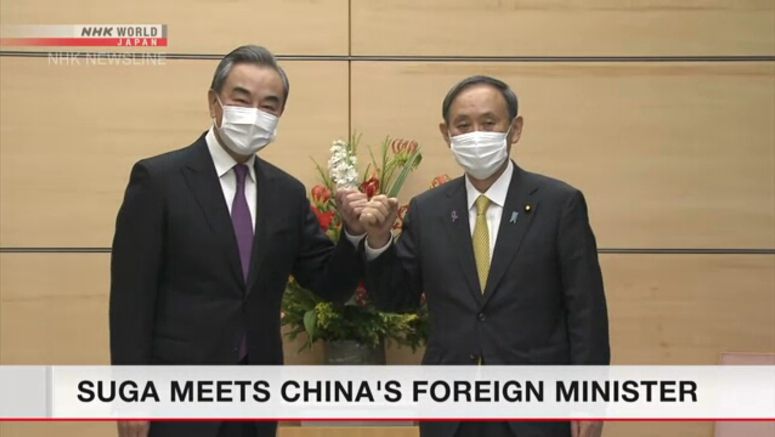 Japan's Prime Minister Suga Yoshihide has strongly urged Chinese Foreign Minister Wang Yi to act positively on maritime and security issues around the Senkaku Islands in the East China Sea.
Wang made a courtesy visit on Suga at the Prime Minister's Office in Tokyo on Wednesday. They talked for about 20 minutes.
Suga welcomed Wang, saying he's glad that visits by top officials of their nations have resumed after being suspended due to the coronavirus.
Suga said stable ties between the two countries is crucial to the region and the international community. He added that Japan wants to see the two countries assume their responsibilities.
Wang relayed messages from China's President Xi Jinping and Premier Li Keqiang.
He said bilateral relations are improving through communication between high-level officials and efforts by both nations. He also expressed hope for bilateral cooperation in various fields.
Wang brought up the issue of the coronavirus, saying people in Japan and China have helped each other and overcome difficulties together.
He said he's grateful for Japanese people's support for China's COVID-19 measures. He added that while the virus has not been fully contained, he is determined to completely defeat it.
Suga reiterated calls for China to act positively regarding maritime and security issues in the East China Sea, including around the Senkaku Islands.
Japan controls the islands. The Japanese government maintains they are an inherent part of Japan's territory. China and Taiwan claim them.
Suga also asked that China lift its import restrictions on food from Japan.
He expressed Japan's concern about the situation in Hong Kong. He called for China's cooperation in dealing with North Korean issues, including abductions of Japanese nationals by North Korean agents.
Suga and Wang also confirmed their cooperation for the success of next year's Tokyo Olympics and Paralympics and the 2022 Beijing Winter Games.