Suga Tells Putin They Should End Territorial Issue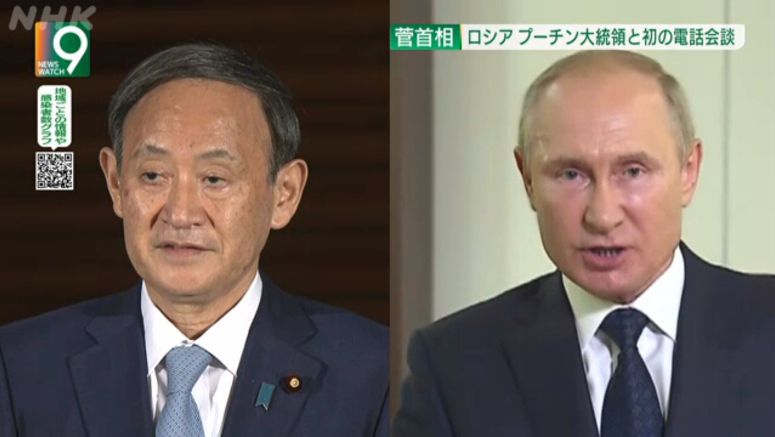 Japanese Prime Minister Suga Yoshihide has proposed resolving a bilateral territorial issue with Russia without leaving it to the next generation.
He made the proposal to Russian President Vladimir Putin as the leaders held their first talks by telephone on Tuesday.
Suga expressed hope for the further development of the whole range of bilateral relations, including the signing of a peace treaty.
Putin responded he has high regard for his ties with former Japanese Prime Minister Abe Shinzo and that he is ready to cooperate with Prime Minister Suga in a constructive manner as well.
Putin added that he intends to maintain dialogue regarding the entire spectrum of bilateral issues, including the conclusion of a peace treaty.
The leaders reaffirmed that President Putin and then Prime Minister Abe agreed in 2018 to accelerate bilateral negotiations toward a peace treaty based on a 1956 joint declaration. The declaration states that two of four Russian-held islands would be handed over to Japan after a peace treaty is concluded.
Japan claims the four islands, which it calls the Northern Territories. The Japanese government maintains the islands are an inherent part of Japan's territory. It says the islands were illegally occupied after World War Two.
Putin expressed his readiness to resume an annual program for former Japanese residents of the islands and their families to visit the islands without visas after the coronavirus pandemic is brought under control.
Suga and Putin confirmed their willingness to meet face to face in the near future to hold candid talks on bilateral ties.
After the phone conversation, Suga said he sensed that they will likely be able to discuss various issues frankly.
He added his government will tenaciously negotiate with Russia to achieve Japan's aspirations of resolving the territorial issue and concluding a peace treaty.