Suga Urges Cabinet To Plan 'digitalization Agency'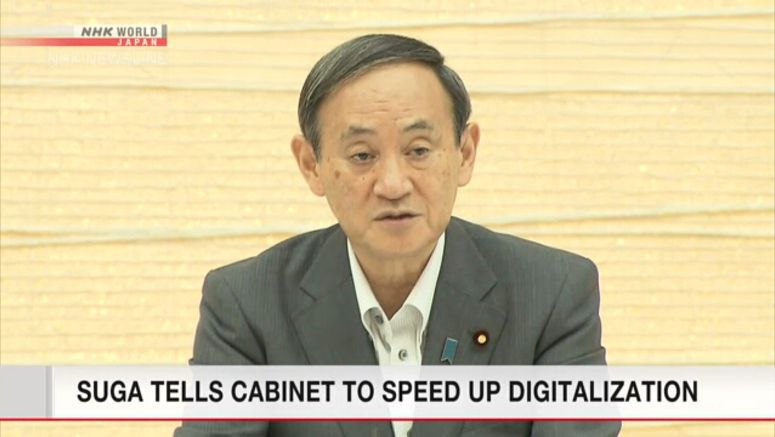 Prime Minister Suga Yoshihide has instructed his Cabinet to accelerate work to submit a bill to set up a new government agency in charge of digitalization during the Diet session that opens early next year.
The first meeting on one of the prime minister's signature policies was held on Wednesday. All the Cabinet ministers took part.
Suga said that the basic plan to launch the agency should be drawn up by the end of this year, so that the bill can be submitted to the ordinary session of the Diet that opens next January.
He said the coronavirus pandemic has brought to light delays in digitalization in Japan's society, in particular at its central and local governments, shortages of necessary human resources, and other problems.
To address such problems, he reiterated his determination to create a new agency that will handle digitalization measures in a coordinated way.
Suga also referred to the goals of his policy. Among them are making the online systems of both the central and local governments compatible, promoting the use of the national "My Number" digital identification system, and allowing people to complete administrative procedures using smartphones.
He added that the new agency must become a strong organization, equipped with competent people from both the public and private sectors, that can lead Japan's digitalization efforts.
Digital Transformation Minister Hirai Takuya told reporters after the meeting that he will work to set up a preparation task force by the end of this month.