Suga Urges Sdf To Overcome Sectionalism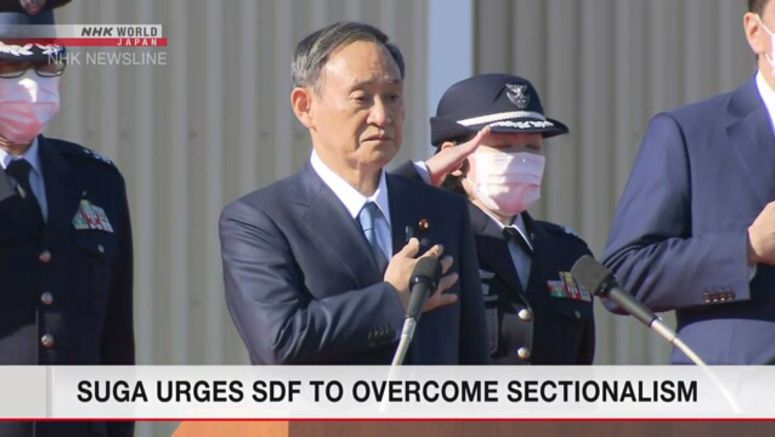 Prime Minister Suga Yoshihide has urged the three branches of Japan's Self-Defense Forces to overcome boundaries between them in order to better respond to new challenges.
Suga addressed around 800 members of the Ground, Maritime and Air Self-Defense Forces on Saturday at an air review ceremony at Iruma Air Base in Saitama Prefecture.
Suga said the government is waging an all-out battle against the coronavirus pandemic. He commended the Self-Defense Forces for their response to the pandemic, citing their operations on the virus-plagued Diamond Princess cruise ship and affiliated hospitals. He called on them to keep up their efforts.
Referring to the 1964 Tokyo Olympics, Suga said Air Self-Defense Force jets achieved a world first by tracing the five rings of the Olympic symbol over the national stadium during the opening ceremonies. He went on to say that the government is determined to host the Tokyo Olympics and Paralympics next summer as proof of humanity's victory over the virus.
Suga said the security situation around Japan is becoming increasingly tense and greater thought must be given to threats posed from outer space, cyberspace and electromagnetic wave technology.
Suga stressed the importance of lowering the boundaries between the Ground, Maritime and Air Self-Defense Forces to cope with these new challenges.
This year's air review was downsized on account of the pandemic. Demonstration flights were cancelled while no guests were invited.