Tablet Showing Next Year's Zodiac Sign Installed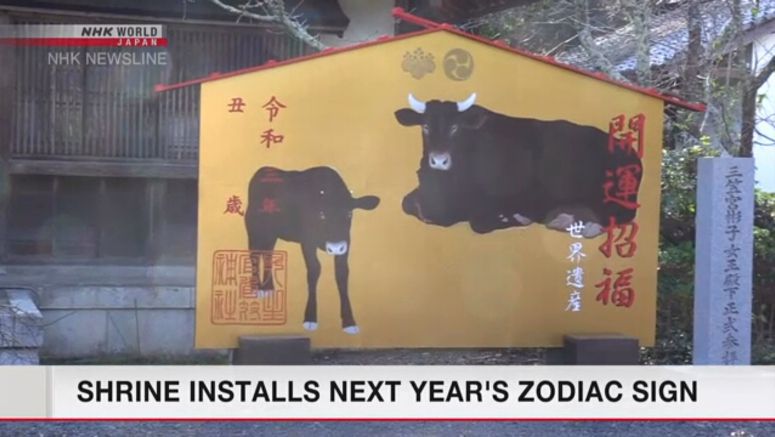 A giant tablet featuring next year's zodiac sign, the ox, has been installed at a shrine in Wakayama Prefecture, western Japan.
A ceremony was held on Sunday to dedicate the tablet to Niukanshofu shrine in the town of Kudoyama.
About 20 people took part. The shrine's chief priest recited a Shinto prayer.
A tablet showing this year's zodiac sign, the rat, was removed from in front of the main building and replaced with the new one.
The tablet is 2 meters tall and 3 meters wide. It depicts a black ox watching over a calf against a gold background.
A visitor said that this year the coronavirus pandemic has been preventing her from going out as much as she wants. She expressed hope that next year she will be able to feel calm and relaxed like an ox.
The chief priest said he hopes the new tablet will ease people's minds and bring a wonderful New Year.
Buddhist monk Kobo Daishi, also known as Kukai, is said to have built the shrine. It stands at the foot of Mount Koya, a UNESCO World Heritage site.