Test Runs On Disaster - Hit Railway Line Begin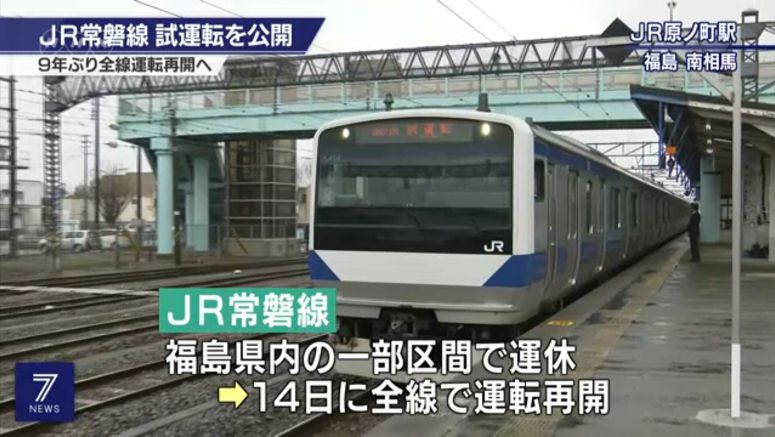 Test runs on a section of railway line along the Pacific coast of Fukushima Prefecture have started nine years after service was halted by the 2011 Fukushima Daiichi nuclear accident.
The accident caused radioactive contamination and suspended service on the 21-kilometer-section of Japan Rail's Joban Line between Namie and Tomioka stations.
East Japan Railway has decided to reopen the section on March 14 as decontamination work has progressed.
This will enable the full operation of the Joban Line between Tokyo's Ueno Station and Miyagi Prefecture's Sendai Station.
Media were invited to the test runs on Monday. Between Namie and Tomioka, a test train made a stop at all three stations.
The resumption of operations comes as evacuation orders will be lifted from two areas around Futaba and Yonomori stations on the Joban Line on Wednesday and March 10 respectively.
A train driver says he wants many people to travel on Joban Line to see that communities along the line are recovering from the disaster.