Tokyo Cases Prompt Travel Campaign Shift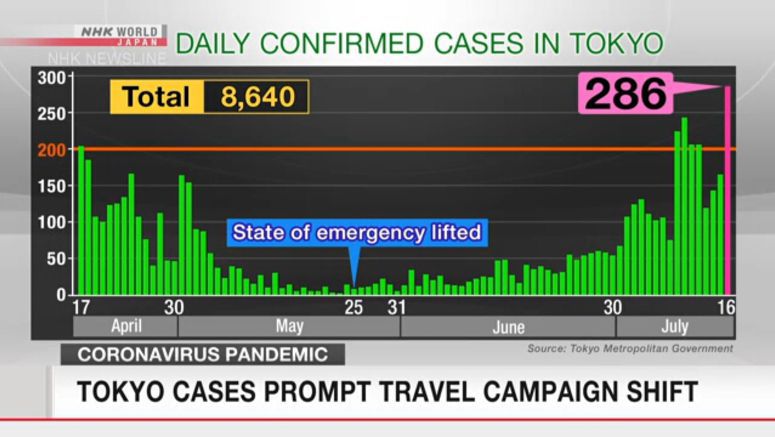 The rising number of coronavirus cases has become a stumbling block for plans to boost Japan's economy. The Tokyo Metropolitan Government reported a new daily high for infections on Thursday, breaking a record set only a week before.
The capital confirmed 286 cases -- a return to a recent trend following slightly lower counts.
The numbers prompted officials to exclude Tokyo from an upcoming tourism campaign.
Those in charge of Japan's coronavirus response consulted experts after local governments and opposition lawmakers raised concerns about the campaign.
Japanese Economic Revitalization Minister Nishimura Yasutoshi said on Thursday that the experts approved a plan to exclude from the "Go To" campaign trips to Tokyo, including travel within the capital, and travel by Tokyo residents.
People in other parts of the country will still be eligible for travel subsidies aimed at promoting domestic tourism.
The government hopes it will encourage spending as people adjust to a new normal.
More than 600 cases were confirmed across the country on Thursday, marking the highest number of daily infections in about three months.
This brings the national total to more than 23,000 cases. Nearly 1,000 people have died.