Tokyo Coronavirus Cases Fall Below 100 On Sunday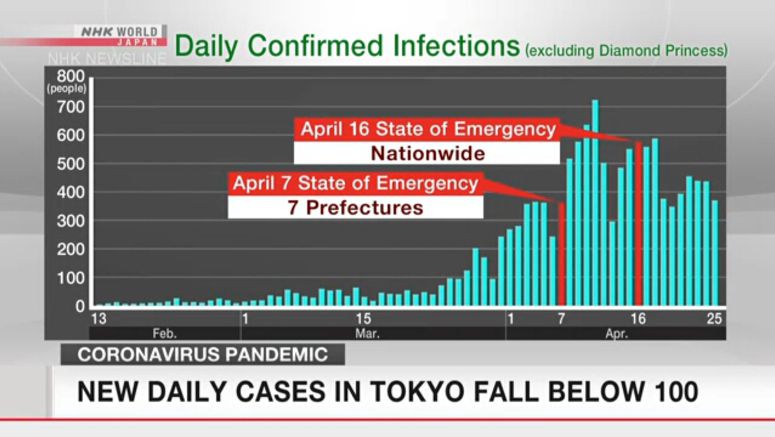 Tokyo officials reported 72 new coronavirus cases on Sunday. It is the first time in about two weeks that the number of infections fell below 100 in the capital.
Also on Sunday, Prime Minister Abe Shinzo, health and welfare minister Kato Katsunobu and others were briefed at a coronavirus taskforce meeting that the number of new cases of infection has been decreasing.
But government officials say that although newly confirmed cases appear to be stable in the past few days, it's impossible to determine whether they are on the decline.
Some experts also pointed out that the number of reported cases per day has not decreased as anticipated.
The government plans to carefully decide whether to extend the country's state of emergency beyond May 6, while closely monitoring the number of cases across the nation. It says it remains unpredictable when the situation will be brought under control.
The government also plans to increase employment subsidies to protect jobs. Rates of subsidies will be further raised for employees' pay at small- and medium-sized businesses that comply with administrative requests to restrict their facilities' operations.
Since the government expanded the scale of the subsidies in mid-February, there had been more than 2,500 applications for the program as of Friday. But just over 10 percent of the applications have been approved.