Tokyo Governor Calls On Residents Not To Go Out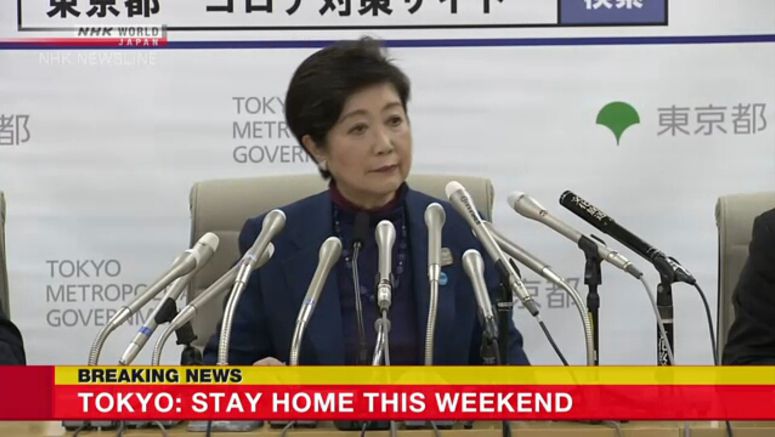 Tokyo governor is calling on residents in the city to stay home this coming weekend unless they absolutely need to go out.
It comes after officials confirmed more than 40 more cases of infection with the new coronavirus on Wednesday, the largest one-day spike the city has seen so far.
Governor Yuriko Koike said that Tokyo is now at a critical juncture. She is appealing to Tokyo residents to realize this situation and do their work at home as much as possible on weekdays. Though she added she understands that may not be possible depending on one's line of work. She is calling on people to refrain from going out in the evening and is asking residents to refrain from going out this weekend, unless it is urgent.
Koike said Tokyo is now facing the risk of an explosive spread of infections.
She called on people coming back from abroad to abide by the 14-day self-quarantine rule.
Five of the newly confirmed cases were people who recently returned from overseas.
11 others have been traced to a hospital where a nurse and a patient were confirmed infected on Tuesday.
Tokyo reported a record number of infections for three straight days through Wednesday. 16 were confirmed on Monday and 17 on Tuesday. The increase prompted one expert on infectious diseases to call for more drastic measures to fight the virus spread.
Professor Atsuo Hamada at Tokyo Medical University said that over the past few days, people who returned from abroad to Tokyo and other parts of Japan have tested positive for the virus. He added that if there is an explosive increase in the number of infections, hospitals will be overloaded and such a situation must be avoided.
More than 1,200 cases have been reported in Japan. That does not include the over 700 cases from the Diamond Princess cruise ship.
45 people have died including 10 from the cruise ship. Nearly 900 people have recovered and left hospital.