Travel Industry Workers To Help Farmers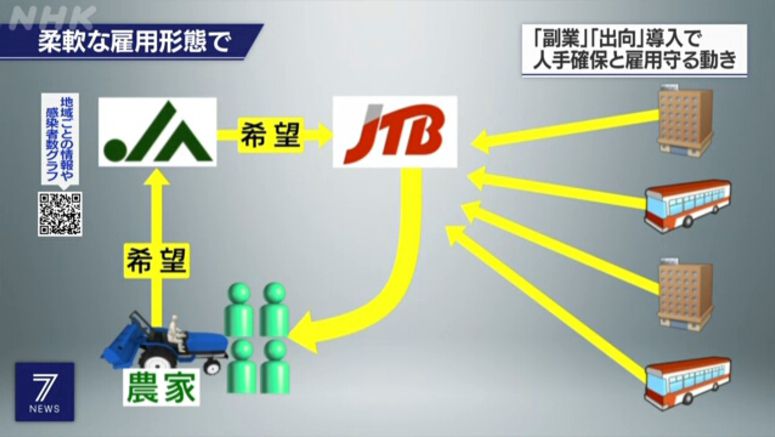 NHK has learned that Japan's national farmers' organization is teaming up with one of the country's largest travel agencies to secure labor for farmers in need of helping hands.
Foreign technical trainees have mitigated labor shortages in Japan's agricultural sector, but there is a shortage this year as they cannot enter Japan due to coronavirus restrictions.
The National Federation of Agricultural Cooperative Associations, also known as Zen-Noh, is starting a new project to secure workers from the travel industry.
Major travel agency JTB is recruiting workers from hotels and bus companies which have been hit hard by the pandemic.
The workers will work at farms as a side job.
The project starts this month in the southwestern prefecture of Oita.
The project allows Zen-Noh to help farmers who are suffering from labor shortages. JTB can assist their clients in the travel industry while it earns fees from farmers.
Inaoka Masahiko of Zen-Noh says it's a win-win situation and that they want to make the working environment easier for travel industry personnel.
Fukuoka Akira of JTB says that the both organizations have sites nationwide, which makes it easier to share information and that they hope to roll it out to other prefectures.