Tsunami - Hit City Resumes Cherry Tree Planting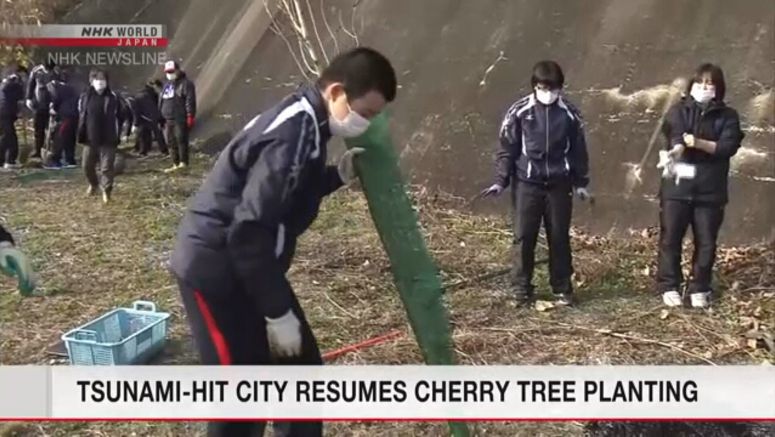 People of a city in Iwate Prefecture that was hit by a tsunami in March 2011 have resumed cherry tree planting on a smaller scale after suspending it due to the coronavirus pandemic.
A non-profit organization continues tree planting in Rikuzentakata City to pass on to future generations the reality about the devastating force of tsunamis and the importance of evacuating to higher ground.
The group plans to plant 17,000 cherry trees in places where the 2011 tsunami had reached. It had planted trees with the help of volunteers from across the country before the pandemic began.
The group resumed the activity in November, limiting participants to residents of Rikuzentakata City and nearby areas.
On Wednesday, 24 high school students from a neighboring town took part in the event. After offering silent prayers facing the sea, they planted four three-meter tall cherry tree saplings.
One of the students said he planted the trees thinking of the victims. He added that he wants the trees to grow big.
The head of the group said the activity aims to convey lessons from the disaster to people across Japan. He said he wants to resume the activity in earnest toward the 10th anniversary of the 2011 disaster, while considering coronavirus infections.