Typhoon Maysak Moving Toward Okinawa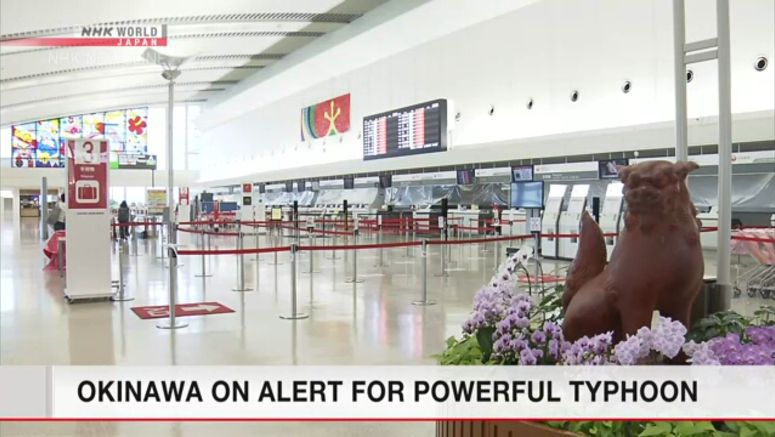 Powerful Typhoon Maysak is tracking toward Okinawa, southern Japan.
Weather officials say the typhoon is expected to approach Okinawa and the Amami region in Kagoshima Prefecture between Monday night and Tuesday.
Officials say that as of 8 p.m. on Monday, the typhoon was moving north-north-west over waters 160 kilometers south of Okinawa's Naha City at a speed of 30 kilometers per hour.
It has an atmospheric pressure of 955 hectopascals at its center. It is packing winds of 144 kilometers per hour with a maximum momentary velocity of 216 kilometers per hour.
Violent winds of more than 90 kilometers per hour are blowing within 150 kilometers of its center.
Maximum gusts of 134 kilometers per hour were recorded in the city of Nanjo and 120 kilometers per hour in Uruma city.
The typhoon is expected to pick up strength. Winds are expected to become strong enough to cause houses to collapse in Okinawa on Tuesday.
Winds of 180 kilometers per hour are forecast for the Okinawa region, 90 kilometers per hour for the Amami region. Maximum gusts could reach 252 kilometers per hour in Okinawa and 126 kilometers per hour in Amami.
Rough seas are also expected. Waves are likely to reach 13 meters around Okinawa's main island, and 10 meters around Amami.
Okinawa is forecast to have hourly rainfall of 80 millimeters, accompanied by thunder.
By Tuesday evening, up to 400 millimeters of rain is expected in the Okinawa region, with 150 millimeters in Amami, and 100 millimeters in southern Kyushu region.
High tides in Okinawa may cause flooding in coastal areas and near the mouth of rivers.
Weather officials are calling on people to be alert for violent winds, high waves, landslides, flooding in low-lying areas and swollen rivers.
The typhoon is expected to move over waters west of Kyushu between Wednesday and Thursday. People are advised to keep updated on the latest information.