Typhoon Maysak To Track Near Okinawa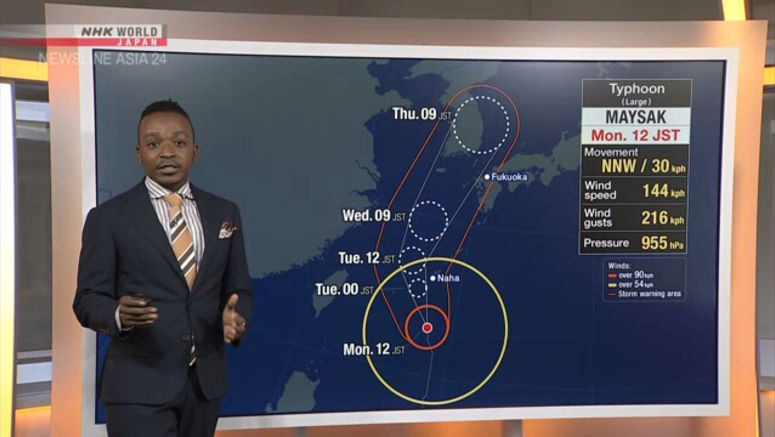 Powerful typhoon Maysak is expected to approach the southern Japanese prefecture of Okinawa and the Amami region in Kagoshima Prefecture between Monday night and Tuesday.
Weather officials say the developing typhoon is moving north over waters south of Okinawa.
They say winds violent enough to cause houses to collapse could hit Okinawa's main island between Monday night and tomorrow, and the Amami region on Tuesday.
Maximum gusts are likely to reach 144 to 252 kilometers per hour on the main island of Okinawa and on Miyako Island. The figure for Amami is expected to top 160 kilometers per hour.
Rough seas are also expected. Waves are likely to be 13 meters high around Okinawa's main island, 11 meters around Amami and 9 meters around Miyako Island.
Limited areas of Okinawa may have hourly rainfall of 80 millimeters.
By Tuesday morning, up to 300 millimeters of rain is expected on the main island and 100 millimeters in Amami.
High tides in Okinawa and Amami may cause flooding in coastal areas and near the mouths of rivers.
Weather officials are urging people to be alert to violent winds, high waves, flooding in low-lying areas, mudslides, and storm surges.