Weather Authorities Urge Residents To Stay Alert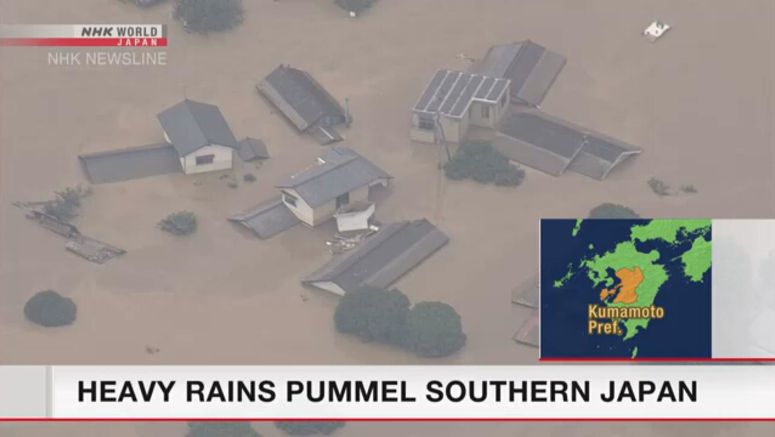 Torrential rains that lashed southern Japan on Saturday began to ease in the afternoon, prompting authorities to change a heavy rain 'emergency warning' for Kumamoto and Kagoshima prefectures to a 'warning'.
Flooding continues to cause havoc in many residential areas, and Nakamoto Yoshihisa, Japan's Meteorological Agency official, urged people to remain alert, and follow any evacuation orders from their municipalities.
The weather agency attributed the unstable atmospheric conditions to warm, moist air that combined with a front and a low pressure system.
A band of rain clouds covering Kyushu island dumped more than 100 millimeters of rain per hour on parts of Kumamoto Prefecture.
The downpour caused the Kuma River to flood in the southern part of the prefecture and washed away a bridge. Emergency services say they've taken more than 100 calls from people pleading to be rescued.
Local government officials say floodwaters have swept away several houses. They say they've rescued two people, but both are in critical condition.
Rescuers trying to reach stranded residents are being obstructed by blocked roads.
Many people are seeking shelter at evacuation centers.
One woman described the downpour as unlike anything she had experienced: "It wasn't like normal rain. I honestly never imagined it could be so powerful."
Another resident said, "The smell of the river and the muddy water was intense. I could feel the vibrations from the churning water through the road next to the riverbank."
Weather officials caution that the front could bring more rain to both eastern and western parts of Japan.
They say there's a risk of flooding in low-lying areas, overflowing rivers, lightning strikes, and sudden gusts.