Hurry Up And Bid On This 15k Mile 1993 Mazda Mx - 5 Miata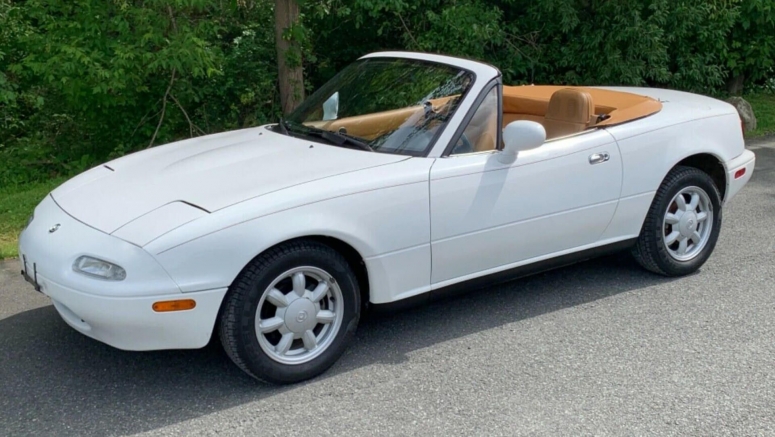 Our 'Used Cars' category is, more often than not, filled with expensive models, most of which we would buy if we could afford the asking price and/or running costs.
However, you do not need to win the lottery to be able to afford this set of wheels, as it is a Mazda MX-5 Miata NA that has spent most of its life away from the road.
We found the ad on eBay, which expires today at 1 p.m. EST, and at the time of writing, 8 bidders pushed the blue button 46 times in total, raising the price to $14,000. Sure, it is not exactly cheap given its age, yet if you want the one that started it all, you might find this one attractive.
Read Also: When In The World Did NA Mazda MX-5 Miata Prices Get So High?
According to the vendor, the MX-5 Miata has 15,267 miles (24,570 km) on the clock and is completely stock. Everything functions accordingly, it starts and drives very well, and the 1.6-liter inline-four, making 115 HP and 100 lb-ft (136 Nm) of torque, paired to a 5-speed manual transmission, as well as the brakes and suspension, won't let you down.
Apart from a few things that need some TLC, the interior is like new, with tan leather wrapped around the seats, door cards and other parts, Miata-branded floor mats and a selection of gear, such as air conditioning, power windows, CD/cassette player and cruise control. The exterior is finished in white and the car rides on the original 14-inch alloy wheels, which are said to be in great shape and shod in 185/60 Pirelli P6 tires.
If all of the above sounds tempting, you'd better hurry, as there's less than two hours left until the online auction ends.
Photo
Gallery