The World Needs A Hellcat - Powered Nissan Z Proto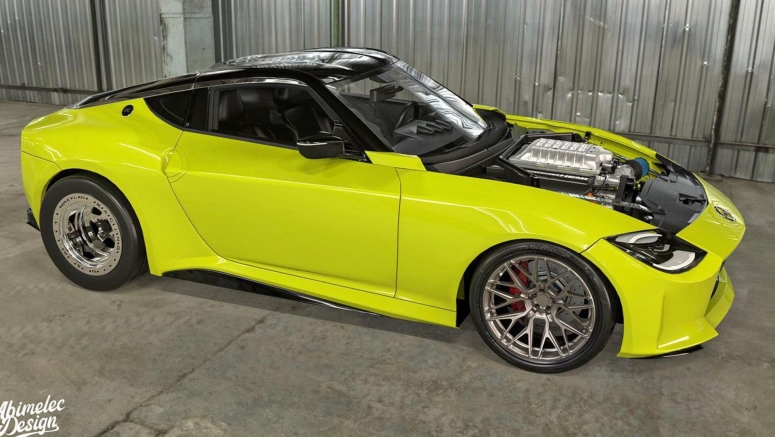 When the Nissan Z Proto spawns a production model, it will reach the hands of customers with a 3.0-liter twin-turbocharged V6 engine pumping out 400 hp. However, we suspect there will be owners who will want even more performance and will swap out this six-cylinder for something a little more powerful.

With this in mind, rendering extraordinaire Abimelec Design has created an imaginary Z Proto that has been outfitted with FCA's beloved 6.2-liter supercharged V8 Hellcat engine. The sports car has also been modified with drag racing in mind.
Watch Also: Nissan's CEO Takes 400Z Coupe Prototype For A Drive, Obviously Finds It Impressive
Nissan hasn't actually released any images of the Z Proto with its hood open, making it difficult to know just how spacious (or not) the engine bay is. Nevertheless, Abimelec Design has managed to neatly digitally fit the Hellcat V8 but was forced to create a custom hood with a large power bulge to ensure the car can accommodate the taller engine.
Elsewhere, the designer has fitted a set of distinctive wheels to the front and a set of custom racing wheels with soft drag rubber at the rear. These rear tires are so fat that they actually sit beyond the rear wheel arches.
If the production version of the Nissan Z Proto proves to be as popular as the new Toyota Supra has been in the aftermarket scene, we expect many companies to begin offering engine swap packages, as well as upgrades to the standard twin-turbo V6. The future is certainly looking bright for Nissan's lineage of Z models.
Photo
Gallery