Sumo Wrestler Terunofuji Wins July Tournament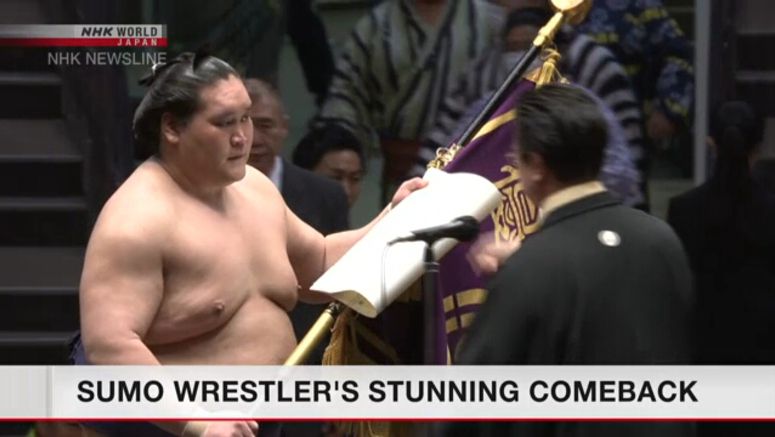 Mongolian sumo wrestler Terunofuji has made a stunning comeback by winning the Emperor's Cup in the July Grand Sumo Tournament.
The former Ozeki Champion forced out Sekiwake Mitakeumi on Sunday, the final day of the tourney, clinching the title for the first time in five years.
Terunofuji first won the title five years ago when he was 23 and advanced to the Ozeki rank.
But he had to sit out nine of 10 tournaments over the last three years due to a knee injury and diabetes, dropping him from the rank of Ozeki to Jonidan.
Nevertheless, Terunofuji held his ground, recovering from injury and illness, little by little.
He racked up more wins than losses and returned to the top Makunouchi division in the July tournament, for the first time in two-and-half years.
Terunofuji said he faced various difficulties but kept working hard, believing the day would come when he could smile. He said he is now convinced that great things happen when he does his utmost.
He said he will continue to do his best in every bout like he did in the July tourney.