Bach Wants Athletes From Abroad Vaccinated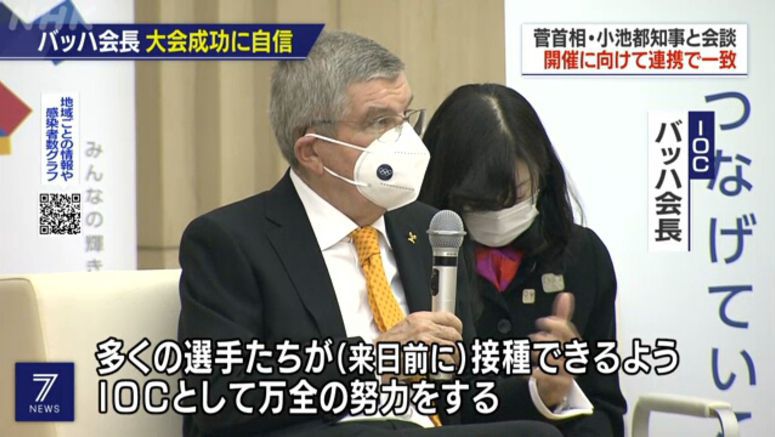 The president of the International Olympic Committee says foreign athletes and visitors to the Tokyo Games next year should be vaccinated for the coronavirus before entering Japan if a vaccine is available.
IOC President Thomas Bach made the remark during a meeting with Tokyo Governor Koike Yuriko at the Office of the Tokyo Metropolitan Government on Monday. He arrived in Tokyo on Sunday for the first time since the decision was made in March to postpone the Tokyo Olympics and Paralympics to next year.
At the meeting, Koike said she hopes the Tokyo Games will represent a victory over the coronavirus. She said Tokyo and Japan are making a maximum effort to welcome athletes from around the world to the Games and they will be held in a safe manner, free of worries.
She expressed readiness to work closely with the IOC.
Koike spoke about how sports can hearten and impress people, referring to the US Open Tennis championships held earlier this year and the recent international gymnastics competition in Tokyo.
She added that she wants to send a strong message that the Tokyo Games will be a successful beacon of hope for the future.
For his part, Bach expressed his hope to work together with Tokyo to hold the Games in a safe environment, and stressed the need for all people involved in the Games to unite and endeavor to work out anti-virus measures.
He also said the IOC will make a great effort so that as many Olympic participants and visitors as possible will arrive in Japan after being vaccinated -- if a vaccine is available.
Bach pledged to work with Japanese authorities to create a safe environment for the Games for both the participants and Japanese people.