Grand Sumo Tournament Opens Without Spectators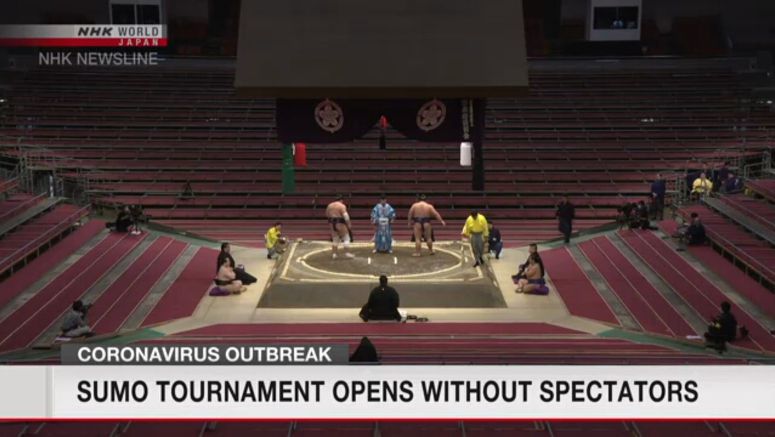 The Spring Grand Sumo Tournament opened on Sunday in Osaka, western Japan, without spectators as part of measures to prevent the spread of the new coronavirus.
Wrestlers and stable masters arrived at the gymnasium by car or taxi. They were told to refrain from using trains, buses and other public transportation to avoid catching the virus.
They were wearing face masks, and disinfected their hands before going into the venue.
The first bout started shortly after 8:40 a.m. Around the ring, there were only a few wrestlers waiting for their bouts, along with the jury of stable masters, referees and ring announcers.
Without fans and cheering, the only sounds were the voice of the referee declaring the winners and shutters from the media crews.
A wrestler who appeared in the first bout told reporters he felt uncomfortable without cheers, but could better focus on the bout. He said he thinks he will get used to having no spectators in coming bouts.
Most pre-bout rituals for high-ranking wrestlers were held as usual. But in a ritual in which wrestlers receive a ladle of "power water," they did not put their mouths to the ladle to avoid contracting the virus.
Japan Sumo Association Chairman Hakkaku said in his opening-day speech that all the wrestlers will do their best in the ring, feeling the cheers of fans across the country.
NHK broadcast the speech and the opening-day bouts live.