High School Baseball Friendlies Start At Koshien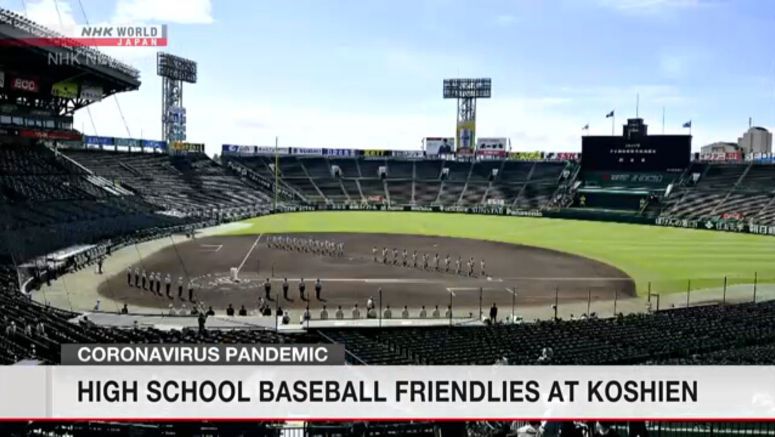 High school baseball players have started a series of friendly matches at Koshien Stadium in western Japan.
Both the annual spring and summer high school baseball tournaments were cancelled this year due to the coronavirus outbreak.
Instead, the 32 teams chosen for the spring series will play a game each during the special event organized by the Japan High School Baseball Federation.
To prevent the spread of the coronavirus, the opening ceremony on Monday did not include the usual march of players from all participating teams.
Only players from two teams set to play the first game -- Oita Shogyo and Hanasaki Tokuharu High School in Saitama Prefecture -- took to the field. They observed social distancing while pictures of the other teams were flashed on a screen.
The federation's head, Hatta Eiji, said in a speech that the special event will provide a unique opportunity for high school baseball players to play at Koshien.
The captains of Oita Shogyo and Hanasaki Tokuharu took an oath together on behalf of all the players.
They said they could come this far after finding their hope again despite the tough situation created by the virus and recent rainstorms that have devastated parts of Japan.
The friendlies will be held for three days from Monday and another three days from Saturday.