Swimmer Ikee Speaks At Olympic Countdown Event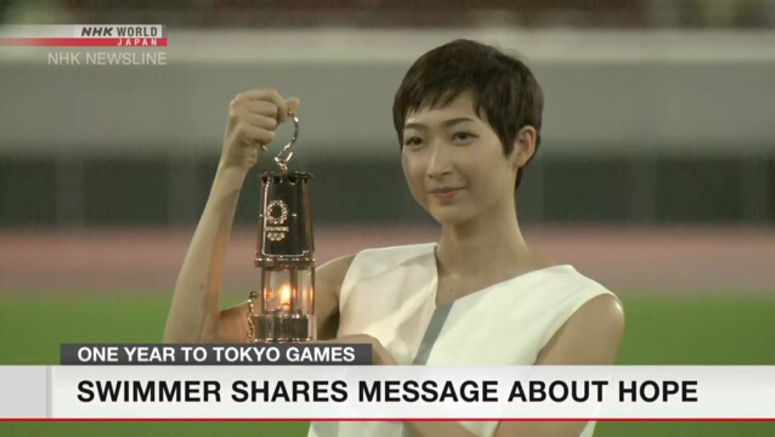 Japanese swimming star Ikee Rikako delivered a speech at an event marking the start of the one-year countdown to the Tokyo Olympics.
The Tokyo organizing committee held the closed-door event on Thursday at the National Stadium, the main venue for the games.
Ikee appeared at 8 p.m., the exact time when the opening ceremony will start next year.
The 20-year-old swimmer, who has leukemia, is aiming to make a comeback. Dressed in white and holding a lantern containing the Olympic flame, she said that a spectacular opening ceremony was due to have been held at the same time the following day and that she had dreamed of taking part in the games.
Looking back on her struggle with leukemia, Ikee expressed gratitude to medical workers who are fighting the coronavirus outbreak. She said she hopes the world will be able to hold the Olympics and Paralympics a year from now.
Ikee expressed understanding for opposition to sporting events in the midst of the coronavirus pandemic. But she also said that people need the power of hope in order to overcome adversity. She said the light of hope in the distance enables people to stay positive and keep striving. She said she wants a flame of hope to be burning at the stadium this time next year.
A video of her message is available on the Tokyo organizing committee's official website.