Sony Opens Xperia Estore For Xperia 1 Ii Pre - Orders In Europe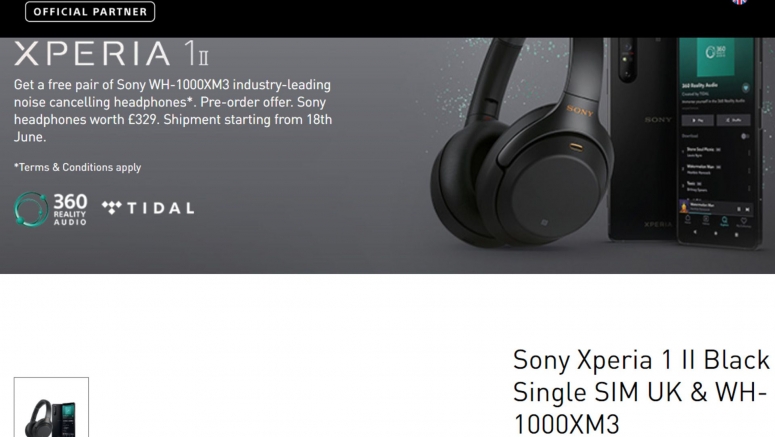 Sony Mobile used to operate its own eShop that offered its full range of smartphones, tablets and accessories to customers in Europe. That store closed earlier in the year, when Sony started to fold all of its 'Sony Mobile' assets back to the 'Sony' parent company. Well, fast forward a few months, and Sony once again has an ecommerce presence in Europe, sort of.
Sony has launched what it calls an 'eStore Partner' website, which we understand is operated by a third-party called Digital River Ireland, as a white label solution for Sony. This is no Sony Mobile eShop replacement. The only device being sold on the site at the moment is the Sony Xperia 1 II – but it is giving users in UK, Germany, France, Spain and Italy the chance to pre-order the device SIM-free and claim a free pair of Sony WH-1000XM3 Wireless Noise Cancelling Headphones in Black. In the UK it is priced for £1,099.

The site only launched today, and to be honest, having a quick browse it doesn't inspire confidence right now. You won't find the usual information you would find on pretty much any ecommerce site these days, such as customer information around returns/refunds, delivery or even an 'about us' page. If it wasn't linked to directly by Sony's site and its official social media channels, we would have thought it was fake.
There is also no way to browse the site, although we were able to find links that show both the Xperia 10 II and Xperia L4 are also available to pre-order on this site – for £319 and £169 respectively. These are likely to be early gremlins, so hopefully Sony will add some polish in the coming days.
Xperia 1 II (Mark 2) is Sony's first 5G flagship
Xperia 1/5 and XZ2/XZ3 devices get May 2020 security patches
Xperia 1 II (Mark 2) gets late April release in Japan
Xperia 1 II's HS Power Control feature bypasses battery charging to maximise gaming performance