Olympic Symbol Monument Unveiled In Tokyo Bay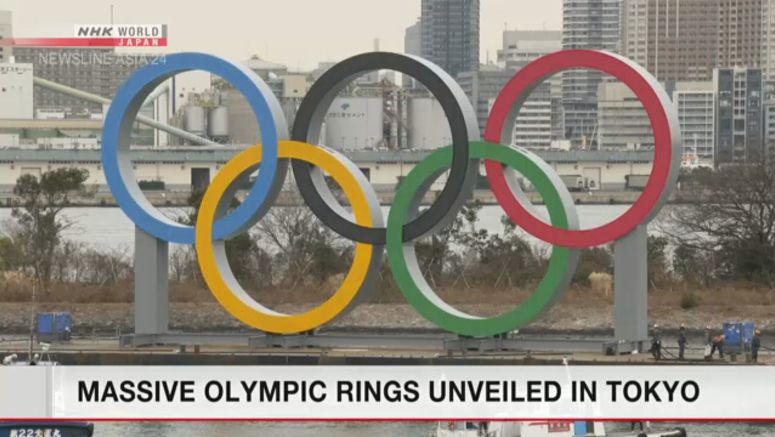 A huge Olympic symbol monument has been unveiled in Tokyo Bay, six months before the city hosts the 2020 Games.
The five-ring monument arrived at the sea at Odaiba Marine Park, one of the Olympic venues, on Friday morning. It measures 33 meters long and 15 meters high and will remain on a barge until the end of the Games.
The monument was built at a shipyard in Yokohama near Tokyo. It took five months to complete.
Divers will fix the barge to concrete blocks on the seabed with wires.
When looking at the monument from the Odaiba shopping and entertainment district, some of Tokyo's symbolic structures can be seen in the background, such as the Rainbow Bridge and the Tokyo Tower.
Visitors were seen taking pictures of the monument with their smartphones.
A woman in her 20s said the Olympic symbol reminds her that the Games will start in Tokyo soon. She says she looks forward to watching swimming events.
The monument will be lit up nightly from January 24.
An official of the Tokyo Games' preparation bureau says officials are planning to decorate the city with Olympic symbols and mascots to boost excitement over the event.
Over the next several months, five-ring monuments and mascots will be put on display at different spots, including the summit of Mount Takao in western Tokyo and the arrival lobbies of Haneda and Narita airports.