Abe, Bach Agree To 1 - Year Olympic Postponement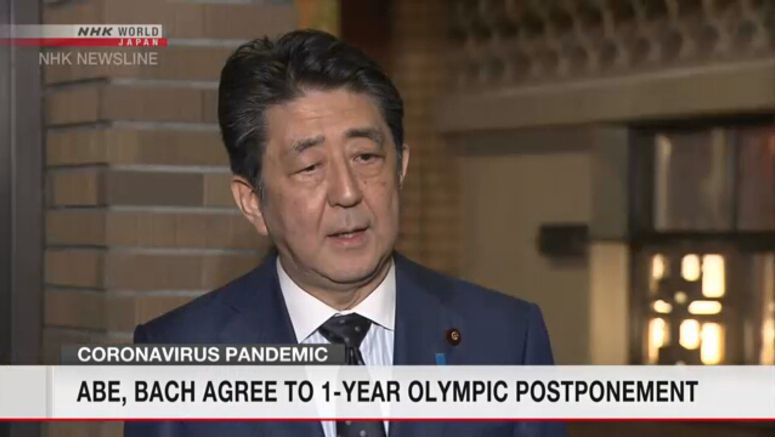 After weeks of speculation, Japan's Prime Minister says the Tokyo Olympics will be postponed because of the growing coronavirus pandemic.
Shinzo Abe says: "We agreed that we will hold the Tokyo Olympics and Paralympics no later than the summer of 2021. We are committed to holding the Games in a complete form when we can prove that human beings have overcome illness caused by the new coronavirus."
Abe says he suggested the postponement to International Olympic Committee President Thomas Bach during a teleconference on Tuesday.
He says Bach agreed wholeheartedly. Abe says he and Bach also agreed that cancelling the Games is not an option.
The governor of the host city and the head of the organizing committee were also on the call.
Tokyo Governor Yuriko Koike says: "It's significant that the span of postponement, or the goal, is set at the summer of 2021. It's especially important for athletes because they now have a concrete target."
The head of the organizing committee, Yoshiro Mori, said the name of the Games will continue to be Tokyo 2020.
He added the Olympic flame will remain in Japan and the torch relay, which was scheduled to start on Thursday, will be suspended.
The Summer Olympics and Paralympics were due to be held between late July and early September.
On Sunday, the IOC held an emergency board meeting after which they announced a four-week timeline to decide on the future of the Games.
But since that time, there have growing calls for organizers to act more quickly.